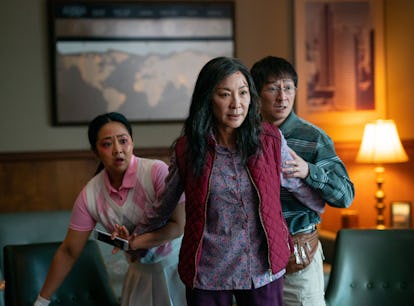 Where Is Everything Everywhere All At Once Filmed? See The Universes
Don't forget to bring your hot dog fingers.
A24
Everything Everywhere All at Once leads 2023's Oscars nominations this year with nods in 11 different categories. The A24 adventure-comedy film, which stars Michelle Yeoh, Ke Huy Quan, Jamie Lee Curtis, and Stephanie Hsu, was a surprise hit of 2022, and has already been slaying this awards season. From wearing Halloween costumes to buying official merch, fans of EEAAO can't get enough of the Oscar-nominated best picture, and checking out some Everything Everywhere All at Once filming locations may be next on your list.
After all, tracking down the Everything Everywhere All at Once filming locations is a lot easier than fighting off people from different universes. Actually, you just have to keep it local to Los Angeles, which is the movie capital of the world, and where a number of your favorite TV shows and movies have filmed. Set-jetting has become a popular travel trend in recent years, with fans hoping to take their fandom even further, and Everything Everywhere All at Once offers plenty of wanderlust inspo.
To celebrate EEAAO's impressive number of Oscar nominations, you may want to stream Everything Everywhere All at Once and then visit some of the locations from the film to recreate your fave scenes. If that's the case, here's where you need to set your GPS to make it happen.
Where Was Everything Everywhere All At Once Filmed?
Two of the biggest filming locations for Everything Everywhere All at Once are the laundromat that Evelyn and Waymond own and the IRS Building where Deirdre works, and those should be at the top of your list. Luckily, they're only about 30 minutes away from each other IRL. The laundromat where the Wang family works is actually the San Fernando Majers Coin Laundry in San Fernando, California. While you should definitely visit to snap some photos for the 'Gram, you could also seize this opportunity and actually bring a load of laundry to wash as well. Both the interior and exterior of the Everything Everywhere All at Once laundromat were used for filming.
For the IRS Building, head over to 400 National Way in Simi Valley. This office building is the one used for production of EEAAO. While you may not be able to go inside, you can snap a picture outside while wearing your hot dog finger gloves or a mustard yellow turtleneck to look like Deirdre. Simi Valley was also used for some additional street scenes, according to IMDb.
If you're starting your EEAAO-inspired day closer to LA, you'll want to stop by Elysian Park. This is where they shot the kung fu universe scenes outside. Heading downtown from the park, you can find the intersection where Evelyn is a sign spinner in Los Angeles. This is at East 7th Street and Mateo Street, across from Guerrilla Tacos.
For the universe where Evelyn becomes a movie star, they used the Los Angeles Theatre as a filming location, according to Sceen It. This gorgeous landmark was also used for BTS' "Black Swan" music video and countless other productions as well. While you can't go into the theater on your own, you can visit it if there is an event going on like a Cinespia movie screening, so check the schedule if you want to explore it further.
The one location that will require a bit of a road trip to visit is the one from the rock universe. The rock scene was shot at Font's Point in the Anza-Borrego State Park, which is less than four hours away. It's definitely worth it for the views alone to travel to Anza-Borrego State Park, which is known for its stunning Super Blooms. You could even bring some googly eyes to tape onto some rocks for your pics — just make sure to remove them when you're headed home.