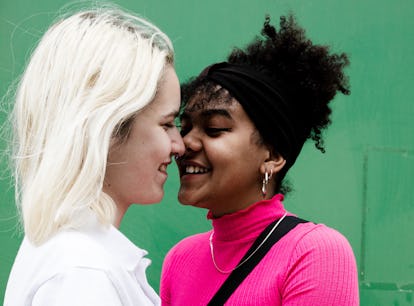 There's 1 Sign In Astrology That Can Reveal Your Most Secret Turn-Ons
It can even speak to how to live your sexiest life.
Greek mythology introduced Eros as the god of sexual love and desire. Today, in astrology, Eros is used to describe that feeling between two people who are just dying to have sex with each other. You know that feeling of, "I'm going to rip my own clothes off right here in this coffee shop if you look me in the eyes again"? That's your Eros sign talking to you, and it can show you what your most erotic turn-ons are.
In modern astrology, your Eros is the sign that Eros, the asteroid, is placed in an individual's birth chart. The sign Eros is placed in can speak to what brings you the most pleasure, and how to achieve it to live your sexiest life. Not all astrologers factor this asteroid into a reading, which can show exactly what makes someone lose their mind with sexual desire — but when they do, expect fireworks.
Eros can show you the sign you are most often attracted to, even if your sun sign isn't that compatible with the person. So if you're a freedom-loving Aquarius who always find themselves stuck in a relationship with emotional Cancers, it might just be because you can't help but find yourself hooked on the sex.
To look up your Eros sign, try using this Eros calculator. Knowing what your Eros sign is can be a powerful way to harness your deepest sexual desires. With this information, you can improve your sex life and intensify your relationships.
This article was originally published on