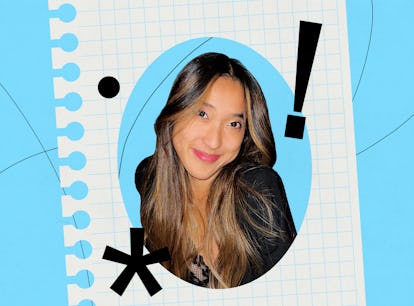 Meet The Yale Senior Who Will Make You Crave Dining Hall Food
Emme Zhou is a student athlete, double major, and big-time foodie.
Elite Daily; Courtesy of Emme Zhou
In Elite Daily's series Big Name On Campus, thought-leading and accomplished college students share their passion projects, how they get it all done, and what's next after graduation. Here, Emme Zhou tells Elite Daily about what led her to Yale University, TikTok content creation, and fencing.
You'd think double majoring at a renowned university like Yale would make up the beginning, middle, and end of any college student's schedule. Cramming for not one, but two Ivy League majors? See you in four years, sleep. But for 22-year-old Emme Zhou, working toward a Yale degree in economics and graphic design is just her day job.
Zhou is also a recruited student athlete who was named an All-American in women's foil fencing in May 2022 — and a TikTok star with nearly 750,000 followers, best known for her Yale dining hall food videos, where she shares "What I Eat in a Day" recaps. One scroll through the foodie's TikTok is enough to have anyone envious of a Yale meal plan — think cream cheese-glazed, graham cracker-dusted blueberry cheesecake pancakes for breakfast, fresh fried mango fritters with mango sauce for lunch, and cheeseburger and s'mores pizzas for dinner and dessert. Zhou also gives viewers a close-up look at her college journey: from leaning into her heritage in her Chinese language class to fencing practice to creating crafty "broke intern meals" on a budget.
Below, Zhou shares a little more about her journey as a double-majoring, Ivy League student athlete-turned-content creator and how she balances everything (because, yeah, that's a lot), as well as her biggest advice for her freshman self.
Elite Daily: You're a senior at Yale University, graduating this month. What led you to Yale?
Emme Zhou: My sister actually went to Yale and was also recruited for fencing. I heard nothing but great things from her, whether that was about the team culture or academics or culture on campus, and I visited and really liked it, so I committed.
ED: How and when did you get started posting food videos on TikTok?
EZ: I was a student worker for Yale Hospitality, which oversees all the residential dining halls. It was during the pandemic, and I would see videos of NYU students eating quarantine meals and thought, "Oh, that's cool, I guess people enjoy seeing what other college students are eating in the dining halls. I could share that, too." My boss, who is one of my favorite people, encouraged me to post something about the dining hall. I think my first video was a brunch video, and that's how it all got started.
ED: You've mentioned that pancakes are your favorite meal at Yale. What's your favorite way to eat them?
EZ: I just love buttery pancakes, so I always have butter and syrup. Chocolate chips or blackberries are really good mixed into the batter, but I don't like putting anything on top.
ED: What do you hope people get out of watching your videos?
EZ: I hope people can see from my videos that college is really fun. The stereotype of going to an Ivy League is that all we do is study all day, but that's not the case.
ED: In addition to TikTok, you're also a full-time student and student athlete. How do you balance it all?
EZ: It's definitely hard at times, but I feel like the three things ebb and flow, so when the fencing season's really busy, I can take a week off or two from TikTok. When the season's chilling, then I film, edit, and try to post more. But also, part of being a student athlete is learning to juggle all those things. And a lot of professors, coaches, and people around me are very, very understanding.
ED: Tell me more about fencing. How did you get started doing that?
EZ: I've been fencing since I was 9, and before that, I was a gymnast. My mom decided gymnastics was too dangerous because I once fell and hurt my neck, so we signed up for fencing through an after-school program. I started going once a week and eventually went to my first tournament, and after that, I got sucked in and started training and competing more. In a blink of an eye, it's been 14 years.
ED: What would you say is the biggest misconception about fencing?
EZ: That it's very dangerous. But actually, it's one of the safest Olympic sports because we have so much protection and the movements aren't too intense. It's micro-movements, and it's definitely more technical than just pure strength. I don't get injured too often, and it doesn't hurt at all.
ED: Have you learned anything surprising about yourself through fencing?
EZ: Fencing is an extremely individual sport — you're literally facing one other person and trying to hit them. That's taught me a lot about facing my fears and self-discipline. Coming to Yale has shown me how to compete on a team. In high school, I'd never competed alongside other fencers, but college fencing is cumulative. If I win, it adds one point to our team. I've learned what it's like to have that type of support and teamwork, and now I very much prefer team fencing.
ED: As a vegetarian foodie and athlete, what are your go-to meals for fueling up?
EZ: One good thing about our dining halls is that we always have a vegan entree. Whether that's lentils, tofu, or veggie burgers, it's pretty easy to find vegan options. My favorite meal of the day is breakfast, so I always have eggs. That's one of my main protein sources.
ED: You've obviously got your routine down in these last few months of college. What has been your favorite part of senior year?
EZ: At Yale, we have something for seniors called "secret society." It's not very secret, but when you're a junior you get "tapped" into a group with 15 or 16 other incoming seniors you've probably never met before. Meeting friends in my society has been one of my favorite things — we hang out consistently, like twice a week, and we go out together. Getting to meet so many new people all at once during my senior year was something I never expected.
ED: What will you miss most about Yale after graduation?
EZ: Not even joking, probably the dining hall. I love waking up and having amazing food ready without having to cook anything. But I also spend a lot of time in the dining hall because I enjoy being around people, and seeing friends in passing is so much fun. Once you graduate, you have to make plans all the time and cook for yourself, and it's just not going to be the same.
ED: Looking back, what would be your biggest advice for your freshman self?
EZ: It will all work out. I used to stress so much about school and fencing and jobs, but eventually, it all sorts itself out. I wish I had more fun and was more spontaneous when I was a first-year.
ED: What's next for you after graduation?
EZ: Last summer I worked at a management consulting firm, and I accepted a return offer from them post-grad for a full-time job. I won't start until probably February of 2024. In the meantime, I'm really just looking to relax. I'm probably going to travel to Asia or Singapore, as well as London because my sister lives there. So I'll kind of transition away from Yale content online and see if I can jump-start into more lifestyle and post-grad life.
ED: How do you envision your TikTok career after graduation?
EZ: I've been thinking about this a lot, and it's exciting and refreshing to be able to film something other than the dining hall. I want to show new aspects of post-grad life, cooking on your own, living on your own for the first time, and maybe even having a 9-to-5 job. I'm not too worried because my viewers will eventually graduate — college ends faster than you think.
This interview has been condensed and edited for clarity.