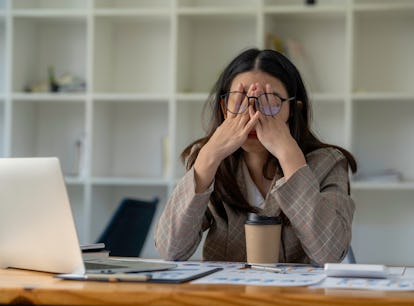 Eliminate Mundane Busywork, Once And For All
How workflows in Slack are helping top companies to make work more efficient and effective.
by Elizabeth Kinsey and Bonnie Horgos
Shutterstock
There's nothing worse than a long day of totally tedious work. Seriously, there aren't enough podcasts in the world to speed up your least favorite tasks. Fortunately, there's software that can help you get the job done. The best part? You don't need to be a coder or an IT genius to understand it.
Slack is a digital communication tool that brings people, products, and teams together in one place so you spend less time navigating software and more time getting real work done. Without signing up for a single coding course, you can flex your innate IT skills — seriously, they're in there — to not only make your own life a little more chill, but to also add value to your team. Sounds like a win-win, right?
From approving employees' time-off requests to notifying sales teams of new marketing leads, everyday users can automate work right in Slack, no training needed. In fact, since Slack launched Workflow Builder, nearly half a million users have built better workflows, with 80% of those using the tool coming from nontechnical backgrounds.
Read on to learn more about how workflows in Slack are helping top companies to make work more efficient and effective.
Streamline Feedback
When using workflows in Slack, companies can easily streamline feedback. By cutting down on the time it takes to channel customer feedback to teams, companies can act quickly to make necessary changes. It's important to keep people happy, right?
According to Gabrielle Dracopoulos, Intuit's head of customer success and experience, Slack has been a total game-changer for workflow.
"We've used Slack to automate routine tasks," Dracopoulos said. "For example, our team has written rules that automatically drop feedback from customers into specific Slack channels. We also have a feedback hub that lets anyone see the information coming in, have a conversation around it, and take action."
Plus, Slack's flexibility allows Intuit to use different processes depending on the nature of the feedback.
"If something is not working on a product or process, we can instantly make a change if the solution is simple," she said. "If it's more complex, people can immediately jump into a huddle."
Centralize Your Workflow
On top of streamlining feedback, workflows in software such as Slack can be a total timesaver. This creates a more streamlined workflow so you can actually get things done.
Saving time is a huge goal at IBM, said Jennifer Kady, VP of global markets sales.
"We have thousands of different workflow integrations, many of which can be triggered through Slack," Kady said. "We can use Slack to issue approvals, highlight support issues, provide transcription and translation for employees around the world, and much more."
Plus, Slack can boost communication, because really, who wants to get lost in a long chain of emails?
"We're all connected, regardless of role," Kady said. "There's less friction and context switching, which makes us more efficient and reduces time to value. As a result, we can avoid missteps and roadblocks, and also be proactive and show clients we really care about their business."
Keep It Simple
Even though building a workflow in Slack can sound pretty complicated, it really doesn't require an advanced degree. In fact, Rasha Alkhatib, senior program manager at T-Mobile, said she created her first Slack workflow in just 10 minutes, even though she doesn't consider herself a technical person.
"One thing I really love about Slack is that it's built for anyone," said Alkhatib. "I did not know what a workflow was prior to March of [2021]. But it's truly been a lifesaver for me, just how much it's helping me be more efficient and productive."
Plus, workflows can help with everything from creating a reminder for people to add agenda items for weekly meetings to setting up team surveys or onboarding. These capabilities help everyone do their best work, Alkhatib said.
"I always felt I was chasing after people, trying to get the information that I needed from them," said Alkhatib. "Now everyone has become more productive and efficient. It's a win-win."
Workflows and automation can transform the way teams do business and achieve their goals. Learn more today.