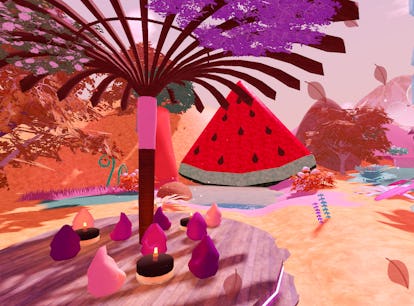 e.l.f. Cosmetics & Roblox Is The Collab You Never Knew You Needed
With e.l.f. UP!, you can create the business of your dreams.
e.l.f. Cosmetics really is that girl. At the beginning of this year, their Halo Glow Liquid Filter blew up on TikTok, and now #elfhaloglow has over 294 million views. Before that, the TikTok GRWM girlies raved about their Power Grip Primer for its insanely sticky consistency that keeps your makeup — among other things creators have tested — stuck onto your face all day. Their products always eat, so it may be a surprise that their newest drop isn't actually a makeup product at all.
e.l.f. cosmetics and e.l.f. skin has collaborated with Roblox to create e.lf. UP!, an online game that offers a "personalized Tycoon experience" where players can tap into their entrepreneurial spirit to create startups surrounding themes they're interested in. Through the game, users really step into that Tycoon energy by being able to operate their own personalized businesses and earn the game's currency Robux. If the scenes look familiar, that's because the game's various worlds are based on some of e.l.f's top products. For example, the climbing gym and tech start-up is based on the Power Grip Primer while the crystal cave jewelry and art gallery are inspired by the Halo Glow.
There's also an underwater sea life charity and animal rescue (pictured below) that was inspired by the Holy Hydration! skincare collection. This setting's blue tinge matches the color of the products, and it has an aquarium-like feel.
In honor of e.l.f.'s Big Mood mascara, there's a recording studio and karaoke bar (pictured below). The purple tones of this scene are match the mascara's shiny purple tube. If this is the business you choose to go after, the vibes will put you in the best mood.
To drive player activity, e.l.f. is gifting one million UGC (user-generated content) items inspired by their products, for example, a Power Grip Primer VR headset. These items equate to virtual merchandise collected in the worlds.
Plus, e.l.f. plans to expand the worlds and opportunities in the coming months — stay tuned for a pet adoption center in honor of the brand being cruelty-free. Expect to see new game mechanics, more areas inspired by new products and launches, a multi-lingual rollout, and more.
If you're looking for a new hobby, you can add an element of play to your beauty routine and give e.l.f. UP! a shot.