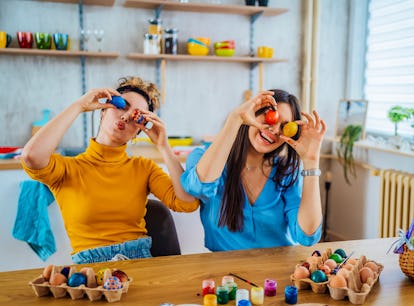 Play These Easter Games From TikTok For An Eggceptional Time With Your BFFs
Sign me up for a wine Easter egg hunt.
LordHenriVoton/E+/Getty Images
When you were a kid, the most exciting thing about Easter was the Easter egg hunt. What a thrill it was to find colorful eggs around the backyard or hidden in your home that were sometimes filled with candy and money. While some people may think Easter egg hunts are just for kids, there are adult Easter egg hunt ideas and other fun Easter games you can still play with your besties and roommates this year.
Aside from eating tons of chocolate candy and dyeing eggs with colorful designs, Easter is about spending time with your loved ones. What better way to enjoy your Sunday together than with some Easter games? Since the weather outside may finally be warm enough for you to enjoy some sunshine in the backyard, take this opportunity to plan an Easter egg game or two. You could even plan an Easter Olympics with different Easter games for adults, and the prize for the winner could be an Easter basket stuffed with tons of delicious goodies.
The first step in making these Easter festivities happen is to pick out a few Easter games you want to play. You may have a few ideas of your own, but if you need some inspiration, here are 10 Easter egg hunt ideas and other Easter games for adults from TikTok you can put together. No matter what you do on the big day, you and your crew will have an egg-cellent time just being together.