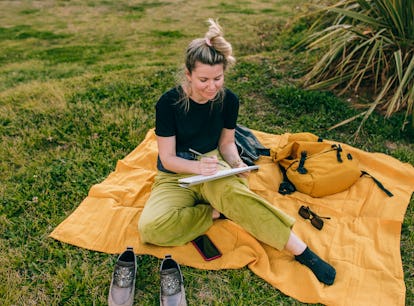 12 Earth Day Activity Ideas On TikTok That'll Make Mother Nature Proud
Upcycling has never been more fun.
Iuliia Bondar/Moment/Getty Images
Earth Day may not be one of those holidays where you get tons of presents, but when you think about it, the planet is a gift that you want to take care of. While trying to be eco-friendly is a year-round thing, there are some ideas for Earth Day activities on TikTok to really help you celebrate the day on April 22. Whether you decide to cook a plant-based meal for your roomies or work on some recycled home decor, you can plan a super fun Earth Day that'll make you and Mother Nature feel better.
TikTok is great for finding inspiration for just about anything, including Earth Day activities. While you could always scroll through your FYP for your own ideas, these 12 Earth Day activities are some of the best. Depending on how you'd like to honor the Earth, there are a variety of ideas to choose from.
For instance, if you're feeling crafty, get your DIY on by upcycling some things in your home or break out the paint for an Earth-inspired art piece you can hang up on your wall. There's also fresh ideas for an Earth Day dinner party that you can plan with your besties as well. Of course, Earth Day is also the perfect excuse to spend time in nature, and there are some ideas here for how you can do that. Just find the Earth Day activity that's calling you, and celebrate the planet with all your heart.