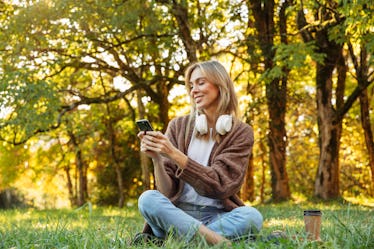 30 Earth Day Quotes For Captions You Can Use All Month Long
Because every day should be Earth Day.
CoffeeAndMilk/E+/Getty Images
While Earth Day is annually celebrated on April 22, appreciating the planet is something you should ideally be doing 365 days of the year. Whether you choose to spend April, aka Earth month, making more of a conscious effort to cut down on your waste, getting more involved in climate change legislation, doing a beach or park cleanup, or spending more time in the great outdoors (or all of the above), one of the best ways to spread awareness is by sharing your Earth Day activities online and reinding others to also get involved. If you need some inspiration, these Earth Day quotes make for perfect nature captions on Instagram or TikTok.
Every year, Earth Day serves as a personal reminder to recommit to doing your part to create a more sustainable future and raise awareness that each of us can make a difference when it comes to taking care of our planet, no matter how small the action. You might spend April 22 planting trees with your besties and shopping from sustainable businesses. If you want to immerse yourself in nature, you might go for a hike with your SO, for which you'll need some nature quotes to use as captions when sharing all your views on Instagram. Earth Day might only come once a year, but it's a good reminder to give a shoutout to our home and renew our commitment to preserving its beauty for future generations. These Earth Day captions include inspiring quotes from Greta Thunberg, Albert Einstein, Gandhi, and more to help you find the right words for your Instagram and TikTok posts.
"Nature is painting for us, day after day, pictures of infinite beauty." – John Ruskin
"Never doubt that a small group of thoughtful, committed citizens can change the world. Indeed, it's the only thing that ever has." – Margaret Mead
"Because we should treat every day like it's Earth Day."
"Nature always wears the colors of the spirit." — Ralph Waldo Emerson
"Just living is not enough. One must have sunshine, freedom, and a little flower." — Hans Christian Anderson
"To leave the world better than you found it, sometimes you have to pick up other people's trash." – Bill Nye
"If you truly love nature, you will find beauty everywhere." — Laura Ingalls Wilder
"The poetry of the earth is never dead."— John Keats
"Where flowers bloom, so does hope." — Lady Bird Johnson
The Earth is what we all have in common." —Wendell Berry
"You cannot get through a single day without having an impact on the world around you. What you do makes a difference, and you have to decide what kind of difference you want to make." —Jane Goodall
"We are the first generation to feel the impact of climate change and the last generation that can do something about it."— Barack Obama
"Those who have the privilege to know have the duty to act." — Albert Einstein
"I have learned you are never too small to make a difference."— Greta Thunberg
"Time spent among trees is never time wasted."
"I think having land and not ruining it is the most beautiful art that anybody could ever want." — Andy Warhol
"To forget how to dig the earth and to tend the soil is to forget ourselves" — Mahatma Gandhi
"Preserve and cherish the pale blue dot, the only home we've ever known." — Carl Sagan
"POV: watching me plant trees on Earth Day."
"Earth day photo dump."
"Spent Earth Day reconnecting with nature, hbu?"
"Keep calm and save the planet."
"Dare to be a force of nature."
"Unless someone like you cares an awful lot, nothing is going to get better. It's not." — The Lorax
"I cannot do all the good that the world needs, but the world needs all the good that I can do."—Unknown
"Leave it better than you found it."
"And I think to myself, what a wonderful world." — Louis Armstrong
"You must take action. You must do the impossible. Because giving up can never ever be an option." — Greta Thunberg
"Climate change is the greatest threat to our existence in our short history on this planet. Nobody's going to buy their way out of its effects." — Mark Ruffalo
"We don't have time to sit on our hands as our planet burns." — Alexandria Ocasio Cortez