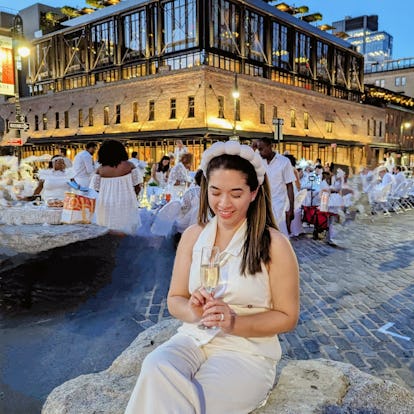 I Went To The Famed Dîner en Blanc White Party Pop-Up In NYC
The (secret) location was one of the highlights.
Kaitlin Cubria
When wearing white after Labor Day is the literal dress code. If you were in the New York City area on Thursday, Sept. 14, you may've noticed a lottt of people wearing the same color (or lack thereof) from head to toe. It wasn't a coincidence, nor was it in any way related to New York Fashion Week, which officially ended the night before. The legendary secret dinner party Dîner en Blanc ("Dinner in White" in French) made its triumphant return to NYC for the 11th year. The wardrobe, of course: all-white everything. As per usual, there was someone from Elite Daily in attendance — but this year, it was me, someone who had never experienced this event. So, I'm here to give you my honest review as a *first-time partygoer* of Dîner en Blanc 2023.
What Is Dîner en Blanc?
The famed pop-up, which began in Paris in 1988, is considered the world's largest and most exclusive dinner party, with more than one million (!) people on wait lists across the globe. It takes place on six continents (Antarctica is still holding out), in more than 65 cities. The rules are simple:
Wear all white, with gold and/or silver accessories as the only exceptions.
Bring all-white table settings — this includes the table, chairs, tablecloth, and dinnerware.
BYO picnic basket (food can be whatever color, but non-stainable items are recommended) or reserve a catered picnic basket, which can be picked up on site.
This year, the NYC event had 4,000 attendees, with 70,000 people on the wait list (so register now if you ever plan on attending), and cost $72 per ticket (not including the catered option or additional add-ons like alcohol, which need to be purchased on site). The secret part? The location. None of the partygoers knew where the event would take place until roughly two hours prior to the start time.
Dîner en Blanc 2023 Took Place In An NYC Hot Spot
Previous Dîner en Blanc NYC venues include Lincoln Center, Bryant Park, and Rockefeller Center; rarely does it repeat. So, I was definitely nervous leading up to the big day; a lot of the landmark locations near my apartment in Hell's Kitchen had already been featured spots, and I was highly concerned about sweating it out getting to a faraway space amid sky-high temps. Everything worked out in my favor though, because this year's attraction was 15-25 minutes away by Uber or bus, in NYC's Meatpacking District (in the same area as Olivia Rodrigo's GUTS Gallery), and we all experienced peak fall weather (68-72 degrees). That meant no sweating it out, phew.
Chilling out in the media section of the pop-up gave me access to light bites from FIG & OLIVE, wine, and a tower of Pommery Champagne, which I took full advantage of. The music was a mix of throwbacks from the likes of Tina Turner and newer hits from stars like Beyoncé, with multiple plays of Jay-Z and Alicia Keys' New York anthem, "Empire State of Mind." It was like one big karaoke bar, with everyone singing and dancing their hearts out.
Is Dîner en Blanc Worth Attending?
TBH, I was skeptical at first. Paying for tickets but bringing everything yourself? Not knowing where you're going until the last minute? My stress levels were working overtime. I also don't know how the bathroom situation was; I heard there were portable toilets, so I didn't even attempt it in my all-white jumpsuit.
All of that being said, I'm happy with the overall experience. Everyone goes to eat and drink with their besties, meet new people (and potentially future friends), dance and sing it out, take snaps for Instagram and TikTok, and just have a good time. And after talking to some attendees, I found that most people actually liked that they were able to bring their own food because there's no wait time and they can have exactly what they like to eat. The nearby location (to my home) and outstanding weather also tipped the scales in the party's favor, so it's easy for me to say yes, it's worth attending. For this year, anyway. We'll see what Dîner en Blanc 2024 brings.