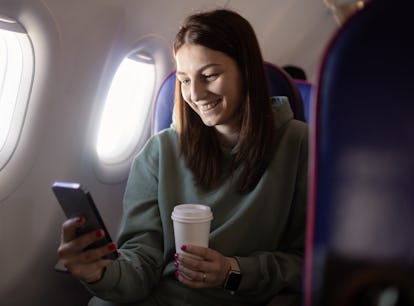 Here's How To Get Free WiFi On All Delta Flights Starting In February
"Sent from my iPhone... in the sky."
RgStudio/E+/Getty Images
There's nothing worse than boarding a plane that doesn't have in-flight WiFi. While most airlines offer some form of entertainment onboard, the best way to pass the time while you're flying is by scrolling through your TikTok or catching up on your fave Netflix show. Unfortunately, to get the best WiFi service, you most likely have to pay around $10 or more. Or, at least, that's how it used to be. Delta is offering free WiFi on all flights starting in February 2023, and it's a game changer for browsing in the sky.
Delta Air Lines is making your in-flight experience better than ever with the launch of their new Delta Sync platform. Delta Sync will offer members exclusives like free WiFi, but only when you fly with Delta. With how stressful flying has become lately, having some additional perks is always welcome. And while this new service begins Feb. 1 with the free in-flight WiFi, Delta Sync will start to incorporate more exclusive experiences in the spring as well. Of course, as great as that sounds, you'll first want to know how to take advantage of Delta Sync and how to sign up for the free Wifi the next time you're traveling.
How To Get Free WiFi From Delta
The Delta Sync program will be offered to Delta SkyMiles members. ICYMI, SkyMiles is Delta's loyalty, frequent-flyer program that tracks your flights and awards you miles. You earn miles any time you fly in the Main Cabin or above on a Delta flight, as well as when you make purchases on board. You can then use those miles to book future flights. Most airlines have some kind of loyalty program like this, but Delta is taking theirs to the next level in 2023.
If you're a SkyMiles member, you'll automatically get to take advantage of the Delta Sync program when it launches in February. Are you not a SkyMiles member? No worries! You can totally sign up for free online with your basic info, contact info, and login info. Whenever you purchase flights, just be sure to enter your SkyMiles number to get your points.
Once you're a member, you can login into your Delta SkyMiles account during your next flight and be able to connect to the internet for free once Delta Sync launches. It's that simple.
What Else Does Delta Sync Offer?
In addition to the free and fast WiFi, Delta will also have an onboard personalization hub for each passenger beginning in the spring. This new service can be accessed via the WiFi, but you'll need your own device like a cell phone, tablet, or laptop to get to the Delta Sync Exclusives Hub. Once you're on, you can pass the time with entertainment from Paramount+ and even keep your Wordle streak going with access to The New York Times Games.
This summer, Delta Sync will also have Delta Sync On Demand, which are new in-flight entertainment screens that act in the same way that your Smart TV at home does. From your screen, you can order food and beverage if you're in First Class, and get seatback flight notifications. The service also offers curated content recommendations, which is awesome if you're someone who struggles to settle on a movie to watch. Just take Delta's recommendation. With free movies, seatback service, and a way to easily text your family and friends during the flight, Delta may just be the airline you want to search for the next time you're booking a vacay.