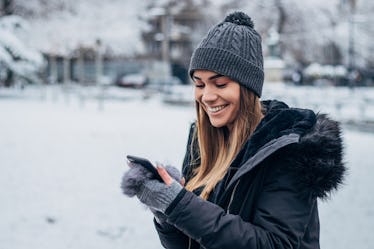 50 December Captions & Quotes For All Your End-Of-Year 'Grams
It's the most wonderful month of the year.
Hirurg/E+/Getty Images
It may feel hard to believe, but the countdown to New Year's festivities and 2023's fresh start is officially just right around the corner. While December has a reputation for being cold and dreary, it's also the most wonderful month of the year, thanks to big holidays like Christmas, Hanukkah, and Kwanzaa, and all the annual fun that go on just before January. Whether you're starting to think ahead to your New Year's Eve plans, New Year's resolutions, and which ugly Christmas sweater to wear to the next holiday party, these December captions and quotes for Instagram will have you ready to embrace the final weeks of the year with a festive photo.
Of course, the countdown to next year wouldn't be complete with plenty of December Instagram posts sharing just how serious you are about embracing the holiday season and making it as merry as possible. If you live somewhere with snow, you'll want to make sure you have plenty of snow cute photos as you tap into your inner child with a snow angel, snowball fight, or make your very own Frosty The Snowman friend. You may be heading to an ice rink to glide into the winter season, or heading to the city to check out the holiday window displays and sparkly decorations. There are so many December traditions to look forward to every year, and they're all so Instagram and TikTok-worthy.
Now that it's December, you'll want to capture special memories to look back on for years to come, like chopping down your tree at the Christmas tree farm, and taking it home to decorate it with jolly decorations like tinsel and colorful lights. You may also bundle up in your best winterwear to visit your local German holiday market with a mug of something toasty warm in hand, or venture to the mall to Santa shop for your loved ones. If you're heading to your hometown for the holidays, you'll want to capture plenty of photos with your high school besties and your family baking holiday cookies, pies, and other festive treats, because they'll look too yummy not to post. Whichever winter moments and memories you decide to share on the 'Gram, you'll need the perfect quotes, puns, and sayings to caption your end-of-year Instagram posts and welcome December.
Despite its reputation and the plunging temperatures, December is anything but bleak. It's the perfect month to reconnect with your most cherished people, enjoy the holidays to the fullest, bask in the glow of the fireplace, and have some well-deserved revelry before the new year comes around. Just make sure you have these December Instagram captions on hand for all your end-of-year Instagram posts when you're ready to start posting Dec. 1.
"I heard a bird sing in the dark of December. A magical thing, and sweet to remember. We are nearer to Spring than we were in September." ― Oliver Herford
"Welcome to the most wonderful month of the year."
Some people are worth melting for." ― Frozen, Olaf
"I go back to December all the time." ― Taylor Swift, "Back To December"
"Baby, it's cold outside." ― Frank Loesser
"When it's December 1st and you're still processing 2022."
"December: The final countdown to 2023."
"My vibe right now is just enjoying 2022 before it's all over."
"POV: curling up with a good book and dreaming away the cold."
"Of all the months of the year there is not a month one half so welcome to the young, or so full of happy associations, as the last month of the year." ― Charles Dickens
"In this world only winter is certain." ― George R.R. Martin
"Winter is coming? Scratch that: Winter is here."
"No one asked if I was ready for December."
"December clouds are now covering me." ― Collective Soul, "December"
"Ready to rock around the Christmas tree."
"Nothing like my crew on cold December nights."
"Dreamin' of a white December."
"It's officially a winter wonderland."
"Hot cocoa and cold toes."
"Manifesting plenty of holiday beverages and ice skating dates this December."
"It's officially cozy SZN."
"Officially in hibernation mode until further notice."
"Is 2023 here yet?"
"Ready for a month of holiday parties and ugly sweaters."
"December mood: Putting Justin Bieber's 'Mistletoe' on repeat."
"I glove you."
"It came like a postcard, picture perfect shiny family, holiday peppermint candy." – Taylor Swift, "Midnight Rain"
"It's ugly sweater weather."
"I *snuggle* to get through these winter days."
"Hello December."
"My ice heart thaws in December."
"Easier sled than done."
"First we'll make snow angels for two hours, then we'll go ice skating, then we'll eat a whole roll of Toll House cookie dough as fast as we can, and then to finish, we'll snuggle." — Elf
"Sleigh, queen!"
"I came, I thaw, I conquered."
"Well, happy birthday Jesus. Sorry your party's so lame." – Michael Scott, The Office
"*Puts a selfie on top of the Christmas tree because I'm a star*."
"All is calm, all is bright."
"Feast mode."
"I've been ready for Christmas since December 26."
"We all know that Christmas is a big commercial racket. It's run by a big Eastern syndicate, you know." — A Charlie Brown Christmas
"But first, let me take an elfie."
"If kisses were snowflakes, I'd send you a blizzard."
"Fa la la la."
"I am so getting coal this year."
"Make it a December to remember."
"Resting Grinch face."
"When life gives you snow, make snow angels."
"Dear Santa... define 'nice.'"
"Treat every day like Christmas." — Elf
This article was originally published on