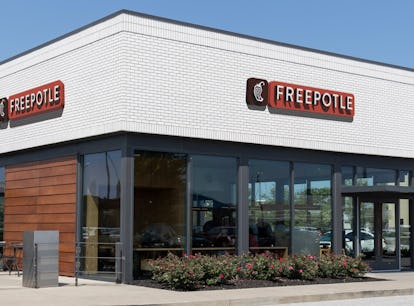 Chipotle's Freepotle Rewards Perk Includes Free Guac & Queso
Don't forget about the free queso!
Courtesy of Chipotle
Chipotle is kicking off 2023 with so many ways to score your favorite sides and dishes. On the heels of announcing a Snapchat challenge that includes a chance to win free guac, the chain is rolling out a new perk that's offering even more chances to score a side of Queso Blanco, chips, and more, at no cost. If you can't tell by the name, Freepotle, aka Chipotle's new rewards program perk, is all about the freebies, and here's how they can be yours.
If your New Year's resolution was to save more money, you're gonna want to sign up for Chipotle's rewards program ASAP, or at least before March 6. That's when the chain's new Freepotle perk kicks in, and once you're subscribed to the program, the freebies will feel like they never end. Freepotle, which was announced on Jan. 9, is a new benefit from Chipotle Rewards that comes with 10 free food drops (yup, 10) throughout 2023 at no extra cost to you. Some of the upcoming food drops include free guac, Queso Blanco, beverages, double protein, chips, and more.
Plus, the goodies don't end there, because Chipotle is also treating 3,100 Rewards members to free Chipotle for a year, in honor of the new perk and as a nod to the company's 3,100+ locations. Just think of all the money you'll be saving on bowls you can get every week.
With all this talk of free food, you're probably wondering how you can get in on the program before it's too late. To make sure you're eating good all year long, here's the rundown on how to join Freepotle, how it works, and more.
How To Join Chipotle Rewards For Freepotle Perk
From Jan. 9 to March 6, you can join Freepotle when you sign up for Chipotle Rewards on the Chipotle website or app. Once you do that, your first food drop of the year, a free side or topping of guac, will be added to your account.
If you're already a rewards member, don't worry, you won't have to go through the hassle of re-subscribing with a whole new password, because all existing Chipotle Rewards members will be automatically enrolled in Freepotle. Chipotle Rewards members who were enrolled before Jan. 8, 2023 can also score a free side or topping of guac, between Jan. 9 and Jan. 15. BTW, all free food drop codes, including the guac, are only valid for seven days, so make sure not to hang on to them for too long.
How To Win Free Chipotle For A Year
If you're only signing up for the chance to win free Chipotle for a year, there are a few other methods you can try to snag the reward.
Freepotle Sweepstakes
From Jan. 9 through 11:59 p.m. PT on Jan. 15., Chipotle Rewards members who make a $5 min purchase in-store and scan their Chipotle Rewards member ID at the register, or who make a $5 min purchase on the Chipotle app or website will be automatically entered to win.
You can also enter for free by emailing sweepstakes@chipotle.com using the email associated with your Chipotle Rewards account with the subject line "Freepotle Sweepstakes." In the email, you'll need to include your first and last name, age, address, country of residence, daytime telephone number, the email associated with your Chipotle Rewards account, and Chipotle Rewards Loyalty ID number. Keep in mind that if your email doesn't meet the requirements, you won't be entered for a chance to win.
Freepotle Prize Wheel
Finally, Chipotle is also treating two lucky followers to free Chipotle for a year rewards with the Freepotle Prize Wheel on TikTok and Instagram. From Jan. 9 to Jan. 13, you can enter for your chance to win by tuning into an Instagram Live or TikTok Live from the company's respective accounts and commenting "Freepotle." The host will then pick commenters at random and spin the prize wheel for them. If the wheel lands on "free Chipotle for a year," the freebie is all yours.
With so many chances to grab a free bite at Chipotle, it looks like 2023 is shaping up to be a pretty solid year already.