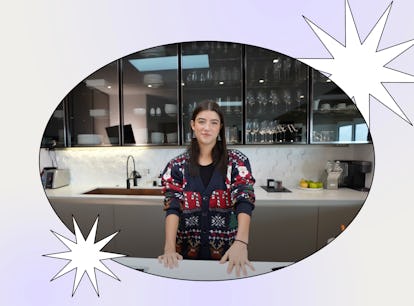 Shop Kitchen Decor Dupes Inspired By Charli D'Amelio's House
Cop the TikToker's modern minimalist theme starting at $5.
We may receive a portion of sales if you purchase a product through a link in this article.
Charli D'Amelio made some big changes in 2022 when she moved out of her parents' house. While she told People that she still sees them every single day, living on your own for the first time is a huge deal. It's a chance to make your home your own with different furniture and decor, and one area of her house that has seen a lot of action is D'Amelio's kitchen. You've probably seen it in a few of her TikTok videos, which is why you might want to cop a few items from D'Amelio's kitchen decor for yourself.
Over the holidays, D'Amelio hosted a series of Charmas — Charli D'Amelio Christmas — videos that featured baking and DIY tutorials from her kitchen. D'Amelio kicked off her first video saying, "No one ever sees my kitchen for real but this is my house." It gave fans a chance to admire her Insta-worthy decor and modern aesthetic with glass kitchen cabinet doors and a minimalistic color scheme.
While D'Amelio has a few of her favorite kitchen items listed on her Amazon storefront, it's pretty easy to track down some decor dupes to achieve the same look and feel in your home. To make your space more D'Amelio-approved, here are a few decor dupes to add to your cart.