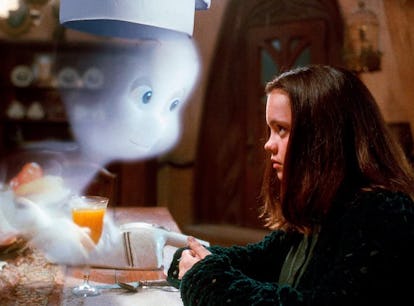 23 Casper Quotes For Halloween Captions That'll Add Some '90s Nostalgia To Your Feed
"It's my party and I'll die if I want to."
Spooky season has arrived, and with it come the witches, werewolves, and ghostly #Halloween aesthetics that fill up your Instagram feed. While there are plenty of pumpkin puns you can use to caption your posts, going with lines from a classic Halloween movie like Casper brings a welcome sense of spooky season nostalgia to your current-day posts. To relive memories of chilly night trick-or-treating or watching the friendly ghost on your boxy TV, check out these Casper quotes for your Halloween Instagram captions.
Remember how shocking it was when Kat discovered her dad had turned into a ghost? Or how your heart ached for Casper when he whispered his most iconic line to Kat: "Can I keep you?" Chances are your friends do, too, so it'll be tons of fun to throw it back with a Casper quote that'll pair perfectly with your Halloween Instagrams. I mean, the second you post any of Casper's sweet, yet sad, lines with a dreamy autumn photo, the likes are gonna come rolling in.
If sweet and dreamy isn't your thing, the best part is that Casper also has plenty of fun and snarky lines to choose from, too. The scenes with the ghost trio — Fatso, Stretch, and Stinky — are chockfull of short and snappy comedic gems, which make for the perfect Halloween Instagram captions. Whether you're reliving the sweetness of that Casper-Kat kiss, or you're calling your besties a bunch of bonebags, there's something for everyone in these Casper quotes for Halloween captions.
"Can I keep you?" — Casper
"I told you I was a good dancer." — Casper
"Come with me if you want to live." — Casper
"Sometimes I worry that I'm starting to forget." — Kat
"All I want is a friend." —Casper
"I can see right through you." — Kat
"Company loves misery." — Stretch
"Uh...boo?" — Casper
"Not bad for my first party, huh?" — Kat
"Drop dead." — Kat
"It's my party and I'll die if I want to." — Fatso
"Casper, it's time." — Kat
"I'm giving you your dream in return. But it's just for tonight. Sort of a Cinderella deal." —Amelia Harvey.
"Get a grave!" — Kat
"Guess again, bonebag!" — Stretch
"I love the smell of fleshies in the morning." — Stretch
"Baby, you're six feet under." — Dibs
"All for one and one for all!" — Stinky, Stretch, and Fatso
"I have no unfinished business. Please don't let me be yours." — Amelia Harvey
"He's got his whole miserable life ahead of him." — Stretch
"Scream or sugar?" — Stinky
"Not so fast, little man." — Carrigan
"You can call them ghosts if you like, or as I prefer, the living impaired. They need help sometimes. Just like us." — Dr. Harvey