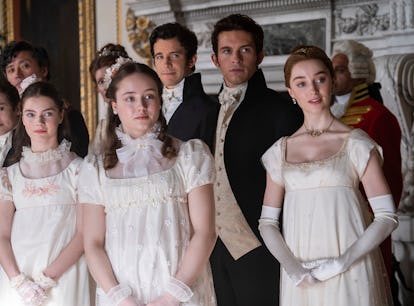 30 Bridgerton Costume Captions When You're The Diamond On Halloween
You'll be the talk of the ton — or at least, Instagram.
Liam Daniel/Netflix
There's no denying Bridgerton has had an impact on our society. Just as the gossip in Lady Whistledown's Society Papers inspires the talk of the ton, each season of Netflix's series has inspired everything from wisteria-filled home decor to Regencycore fashion trends. In fact, you may even be planning a Bridgerton-inspired Halloween costume this year. And while words may come easy to Lady Whistledown, you may need some help with Bridgerton costume captions to make posting a breeze on IG.
Let's face it, coming up with a clever Instagram caption for your Bridgerton costume is as hard as it was for Kate Sharma and Anthony Bridgerton to resist each other in Season 2. When Halloween rolls around, you feel inclined to post a cute selfie showing off your Regency era 'fit, but that pic can sit in your drafts if you're not sure what words to accompany it with. To make sure you're posting on time, you need these 30 Bridgerton quotes and Bridgerton costume captions.
Whether you and your partner are going as Daphne and Simon or your dog is looking to stun as the Queen herself in a Bridgerton pet costume ($18, Petco), you'll be sure to burn for these Instagram captions and prove once and for all you're the diamond of the season.
"I burn for this costume."
"Someone let Lady Whistledown know I did not come to play."
"You're looking at the diamond of the season."
"Do it. Be bold."— Eloise Bridgerton
"This costume is swoon-worthy."
"A costume fit for a queen."
"I'm the ninth Bridgerton sibling."
"The social season is upon us." — Lady Whistledown
"A pairing like that, well, would certainly be most enchanting indeed." — Queen Charlotte
"Dear reader, if there is a scandal, I shall uncover it." — Lady Whistledown
"Just over here spilling the tea."
"I'm mentally dating the Duke of Hastings."
"Just looking for the Simon to my Daphne."
"If this is to work, we must appear madly in love." — Simon Basset
"All I need is a feather fan."
"Dearest gentle reader. Did you miss me?" — Lady Whistledown
"Stare into my eyes." — Simon Basset
"It's always 'wyd' and never 'you are the bane of my existence and the object of all my desires.'"
"Words of flattery are beautiful and sweet, but they are also hollow unless accompanied by action." — Anthony Bridgerton
"Flawless, my dear." — Queen Charlotte
"I have never understood the fashion for feathers in the hair. Why would a woman want to draw more notice to the fact that she is like a bird squawking for a man's attention in some bizarre ritual?" — Eloise Bridgerton
"Shall we promenade and show off our costumes?"
"I better see this costume in Lady Whistledown's papers tomorrow."
"The biggest coup of the season." — Lady Whistledown
"I am certain you will find your purpose one day. Everyone must eventually." — Penelope Featherington
"I'm ready for the ball."
"Dress like you're already the talk of the ton."
"Just keep looking at me. No one else matters." — Anthony Bridgerton
"I know I am imperfect, but I will humble myself before you because I cannot imagine my life without you." — Anthony Bridgerton
"Who's ready to rewatch 'Bridgerton?'"