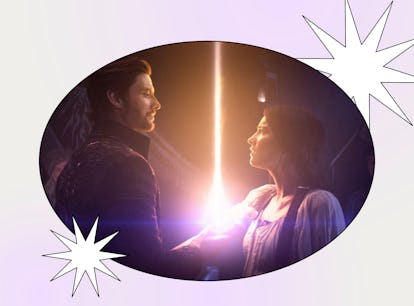 15 Books Like Shadow And Bone That'll Take You On A Magical Adventure
*Adds to reading list after watching Season 2*
Netflix/Elite Daily
We may receive a portion of sales if you purchase a product through a link in this article.
Your copies of Leigh Bardugo's books from the Shadow and Bone trilogy are probably looking a little worse for wear. After all, the last book in the series was published in 2014, so you've had plenty of time to delve back into the Grishaverse on more than one occasion. Those dog-eared books are a good sign that it's time to escape to new lands of magic and romance. If you're ready to get lost in totally different stories, check out these books like Shadow and Bone with similar nail-biting experiences and new haunted couples to swoon over.
You were immediately enthralled with Bardugo's young adult novels, as if one of the Grishas (aka manipulators of elements) bewitched you themselves. While the battles between these gifted wielders were captivating, it was really the books' constant twists and turns that kept you reading through the night. After protagonist Alina Starkov discovers she's a rare Grisha who can harness light, the series reveals one jaw-dropping surprise after another. Friends become foes, danger springs out of nowhere, and monsters lurk behind every shadow — but the mythical adventures don't have to end with Ruin and Rising, the final book in the trilogy.
These books like Shadow and Bone keep the magic in the air longer than you can marathon-watch Shadow and Bone on Netflix. After you watch Season 2 of Shadow and Bone, you may want to fill your time with a new adventure. The stories on this list are like Bardugo's precisely because they're full of evil kingdoms, epic quests, and otherworldly creatures that'll transport you to a new mystical universe. Simply pick up one (or more) of these books to get there and enjoy the ride.
This article was originally published on