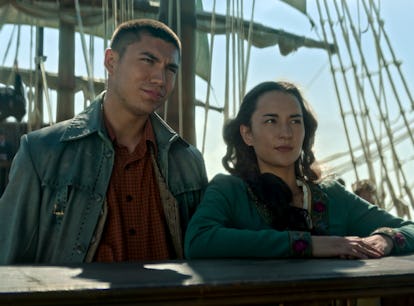 These Pics From Shadow And Bone Season 2 Are Sparking All The Theories
Netflix © 2022
Netflix's Shadow and Bone plunged viewers headfirst into an exciting new fantasy world full of magic and danger as it adapted two of author Leigh Bardugo's Grishaverse novels and intertwined their stories. Seeing as these novels have multiple sequels, fans were hopeful that Netflix would greenlight a second season and explore the stories told in those books. Thankfully, the official renewal from Netflix was announced on June 7, 2021. Here's what we know about Shadow and Bone Season 2, including details on its release date, cast, and more.
Warning: Spoilers for Shadow and Bone Season 1 follow. With its intriguing fantasy drama and immersive universe, Shadow and Bone quickly became one of the most talked-about new shows of 2021 when it hit Netflix on April 23. The series unfolds in a world torn in two by a monster-filled darkness known as the Shadow Fold. The main plot centers on an ordinary orphan named Alina Starkov (Jessie Mei Li), who discovers she's a powerful Grisha with the supernatural ability to summon light. Her powers could hold the key to destroying the Fold once and for all, but they also make her a target for dangerous forces who hope to use her for their own plans. Meanwhile, a group of talented kidnappers and thieves known as the Crows are hired to infiltrate Alina's new home in the Little Palace and snatch her away.
The season ended with Alina escaping from her home country of Ravka along with her best friend, Mal (Archie Renaux). Their mission to defeat General Kirigan (Ben Barnes), known as "The Darkling," promises more epic fantasy moments in Season 2, including more antics from the Crows' latest heist.
Here's everything to know about Shadow and Bone Season 2.
Shadow And Bone Season 2 First Look Photos
Just in time for the 2022 holidays, Netflix gifted fans a set of first-look photos for Season 2. They also sparked a few theories of what's the come in the new season when it arrives in 2023.
The first photos of Alina and Mal are on point, with Alina's sun summoner powers on display. Their whereabouts, a boat, also suggest that at least their storyline will follow Siege and Storm, the second book in the titular novel series on which the show is based.
So does this photo of Sturmhond, the privateer whose identity turns out to be far more critical than Alina and Mal realize. It also had fans' tongues wagging, as this is yet another really good-looking guy to walk into Alina's life. Could yet another love triangle be coming in Season 2?
Also with Sturmhond, Netflix included a picture of newcomers Tolya and Tamar, a pair of siblings who serve on Sturhmond's crew.
Season 1 ended in such a way that it looked as if the series was going to dive directly into the Six of Crows duology, and Matthias' photo looks to be following that story. Since Nina turned him in, knowing it would at least save his life momentarily, it's made him a prisoner, and the trial doesn't look to be going well at all.
However, there are some clues that the Six of Crows' story won't strictly follow the novels, as this photo of Wylan, who initially isn't accepted by the group, has him looking more friendly with Jasper than fans might expect. Their romance is a fan-favorite from the books, and fans suspect the series may plan to speed up their relationship if this photo is anything to go by.
Shadow And Bone Season 2 Plot
Shadow and Bone Season 1 was based on the same name novel, the first entry in Bardugo's Shadow and Bone trilogy. Season 2 will likely follow the plot of the second book, Siege and Storm. However, showrunners Eric Heisserer and Daegan Fryklind told Entertainment Weekly in an interview the same day the photos arrived; Season 2 will cover multiple books, not just Siege and Storm and Six of Crows. "We touch on a few others in Leigh [Bardugo, the author] 's catalog," Heisserer said. "There's a piece that's integral to the story that was Daegan's idea that I'm particularly excited about. I don't think the fans are gonna see that one coming 'cause it's a pretty deep cut."
"I don't even think that Leigh saw it coming," Fryklind added.
Here's the official synopsis for Season 2:
Alina Starkov is on the run. A beacon of hope to some and a suspected traitor to others, she's determined to bring down the Shadow Fold and save Ravka from ruin. But General Kirigan has returned to finish what he started. Backed by a terrifying new army of seemingly indestructible shadow monsters and fearsome new Grisha recruits, Kirigan is more dangerous than ever. To stand a fighting chance against him, Alina and Mal rally their own powerful new allies and begin a continent-spanning journey to find two mythical creatures that will amplify her powers. Back in Ketterdam, the Crows must forge new alliances as they contend with old rivals and even older grudges that threaten not only their place in the Barrel, but their very lives. When a chance at a deadly heist comes their way, the Crows will once again find themselves on a collision course with the legendary Sun Summoner.
Shadow And Bone Season 2 Trailer
Shadow and Bone Season 2 was announced on June 7, 2021. Jessie Mei Li starred in the announcement trailer alongside co-stars Ben Barnes, Archie Renaux, Freddy Carter, Amita Suman, Kit Young, Calahan Skogman, and Danielle Galligan. In the video, the cast thanked fans for watching the first season, which, according to a Netflix press release announcing Season 2, brought in 55 million viewing households over the show's first 28 days of streaming.
Netflix released a first look at the new season during the Tudum event on Sept. 24, 2022.
A full trailer for the series is expected in early 2023.
Shadow And Bone Season 2 Cast
The main characters in Shadow and Bone are all important figures in the Grishaverse books, so expect to see all of your faves back, including Jessie Mei Li as Alina Starkov, Ben Barnes as General Kirigan/The Darkling, and Archie Renaux as Malyen "Mal" Oretsev.
The crow crew is also returning with Freddy Carter as Kaz Brekker, Amita Suman as Inej Ghafa, Kit Young as Jesper Fahey, Danielle Galligan as Nina Zenik, and Calahan Skogman as Matthias Helvar.
Daisy Head is also set to return as Genya Safin.
As for new faces, On Jan. 8, 2022, Netflix announced four additional actors would join the ensemble: Lewis Tan as Tolya Yul-Bataar, Patrick Gibson as Nikolai Lantsov, Anna Leong Brophy as Tamar Kir-Bataar, and Jack Wolfe as Wylan Hendriks.
Shadow And Bone Season 2 Release Date
Shadow and Bone Season 2 will premiere on March 16, 2023.
This article was originally published on