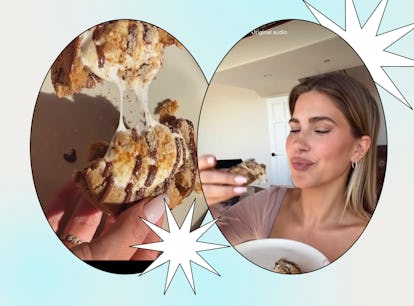 Are Last Crumb Cookies Worth $140? Inside The TikTok-Viral Flavors
The chocolate chip cookie claims to be "better than sex."
Instagram/Last Crumb; Elite Daily
2023 is the year of the gourmet cookie, thanks to the appetite for brands like Crumbl, Levain Bakery, and Last Crumb. Last Crumb is the only one of these three cookie companies that sells its treats completely online, but that hasn't lessened the demand. Instead, the LA-based cookie company, which launched in August 2020 as an online shop, sells out of its luxury, handmade cookies sometimes just minutes after they drop every Monday — despite a luxe price tag starting at $140 a dozen. After seeing the buzz on TikTok and videos of the giant gooey cookies with hilarious names on my feed (there's a Stifler's Mom cookie and a "Better Than Sex" chocolate chip), I knew it was time to put Last Crumb's FYP-staple cookies to the taste-test to see whether they're worth the hype and, more importantly, the cost.
When I got my box of 12 cookies in the mail, I was pleasantly surprised at just how big and sturdy the package was; it took up two whole seats in the backseat of my car. Considering the cost of Last Crumb cookies, it felt fitting to start off the experience with its sleek, all-black box. Upon opening, I saw each cookie came in its own plastic packaging with their name and a tongue-in-cheek description — which made me outwardly LOL while scanning through them — written on it.
While each cookie had its own unique flavor combo, I noticed that they were all uniformly pretty big with slightly crispy edges, a thicker, soft center, and a sprinkle of flaky Maldon Sea Salt on top. All the cookies are shipped fresh, but the packaging suggests heating it up for a few seconds in the microwave for the ultimate flavor and texture experience. I'm 100% team warm and gooey cookie, so this is probably something I would have done anyway.
My taste-test ranking the Core Collection's 12 signature flavors included:
Better Than Sex (chocolate chip)
Everything But the Candles (birthday cake)
The Madonna (peanut butter)
When Life Gives You Lemons (lemon)
The Floor is Lava (chocolate lava)
Macadamnia (white chocolate + macadamia)
The James Dean (cookies & cream)
What the F*ck Velvet (red velvet)
Not Today Mr. Muffin Man (blueberry muffin)
Netflix and Crunch (Cinnamon Toast Crunch)
S'mores Sans Campfire (s'mores)
Donkey Kong (banana cream pie)
Below, here's my ranking of all the Last Crumb cookies in the Core Collection, as well as flavor notes for each.
Last Crumb Cookies Flavors, Ranked
Better Than Sex: 10/10
Naturally, I had to start with the Better Than Sex chocolate chip, which caught my attention right away. With a name like that, it has to be orgasmic, right? Ohhh, yes. It was soft and flaky, especially in the middle, with three types of melty chocolate. The sprinkle of Maldon salt on the top balanced out the almost fudge-like sweetness and buttery flavor. It was simple but delicious, and heating it up definitely amped up the experience.
James Dean: 9.8/10
Last Crumb's Oreo milkshake cookie was a close second. This tasted similar to the chocolate chip cookie, but with a more creamy flavor from the malted milk and an added crunch from the big pieces of Oreos throughout. Plus, the white chocolate, semi-sweet chocolate, and malt balls were *chef's kiss*.
Not Today, Mr. Muffin Man: 9.5/10
This cookie almost reminded me of a blueberry muffin, and I was here for it. In addition to a wild blueberry puree, which made the cookie more moist than some of the other offerings, there were also whole blueberries throughout so you got some in every bite. The streusel paired well with the fruit and added just the right amount of sweetness.
The Madonna: 9/10
Last Crumb's peanut butter cookie was soft and flaky, with a classic yet delicious combo of peanut butter and milk chocolate generously distributed. I loved that they didn't skimp on the peanut butter — there were peanut butter chips, cups, and a swirl inside the cookie — and that there were a lot of different textures to enjoy.
S'mores Sans Campfire: 9/10
Last Crumb's s'mores cookie was surprisingly good. The graham cracker was soft and not overly crunchy, making the consistency work well with the melted blend of dark and milk chocolate and the gooey marshmallow in the middle. It definitely made me nostalgic for summer bonfires.
Netflix And Crunch: 8.5/10
As a big Cinnamon Toast Crunch fan, I had high hopes for a cookie inspired by the cereal. It was almost cinnamon overload with the cinnamon streusel, cinnamon graham cracker crust, and cinnamon bun filling, but the vanilla milk swirl was a nice addition to cut through all the spice.
Everything But The Candles: 8/10
The Everything But The Candles birthday cake cookie tasted like a mix of Funfetti cake mix and Christmas cookies with sprinkles, in the best way possible. The cake batter and vanilla frosting combo made me feel like a kid again.
Donkey Kong: 7.8/10
Last Crumb's banana cream pie flavor, which the brand refers to as its "flagship cookie," beat my expectations. Using real bananas instead of artificial flavoring really made a difference both flavor and texture-wise, and the fruit paired well with the melted marshmallows, vanilla wafers, pudding, and white chocolate. With the buttery and sweet flavor, the salt on top, and the soft, almost pie-like texture, this cookie gave me Thanksgiving dessert vibes.
The Floor Is Lava: 7.5/10
The Floor Is Lava is definitely for chocolate lovers, but it was a little too rich for me. The combo of milk, dark, and Dutch chocolate paired with a melted ganache filling and a powdered sugar topping was delicious, but I was only able to have a few bites before calling it quits.
Macadamnia: 7/10
The Macadamnia was the one really sweet and salty cookie out of the bunch, thanks to the brown butter, salted caramel, and flaky sea salt on top. I'm pretty neutral about white chocolate, but I thought it was nicely balanced by the toasted, almost caramelized nuts.
Red Velvet: 7/10
The highlight of this cookie was definitely the gooey homemade cream cheese frosting in the middle. While I normally love red velvet anything, it didn't wow me as much as some of the other cookies.
When Life Gives You Lemons: 6.5/10
To be fair, I'm not the biggest fan of lemon-based desserts to begin with, and the When Life Gives You Lemons cookie felt like it had a lot going on. The brightness and citrusy flavor of the lemon and lemon zest were good, but I felt like they were almost overwhelmed by the sweetness of the powdered sugar, the marshmallows, and vanilla chips. However, I really liked the texture of this cookie, especially with the graham cracker crust that made it a little crunchier than the other ones.
Are Last Crumb Cookies Worth It?
$140 sounds like a lot for cookies, but it ultimately comes out to less than $12 per cookie, which is really not too expensive when you factor in the size and the quality. If I had the option to order fewer cookies or even buy them individually from a shop IRL, they'd be my new dessert obsession. I really appreciated the unique flavors (there are 43 total so far, including the core 12 that I tried), the playful packaging, and what in my mind is the ideal cookie texture: flaky and soft.
That being said, it was a struggle for me to try all 12 Last Crumb cookies in one sitting, even with the help of my boyfriend, so I probably won't be taking any new flavors for a spin anytime soon. But if you have a big friend group that loves high quality gourmet cookies or live with roommates, I think these treats are definitely worth checking out. Their cookie drops happen weekly on Mondays at 12 p.m. PT with both the core and new flavors, including a $160 gluten-free limited edition collection that was released earlier this month. Just keep in mind that the drops sometimes sell out within a few minutes, so don't sleep on snagging your order.