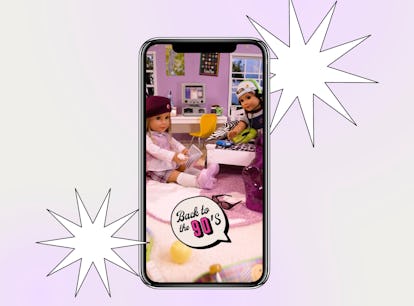 American Girl's '90s Dolls Are Making Millennials Cringe On TikTok
Raise your hand if you feel personally victimized by the "historical" characters.
TikTok/Elite Daily
The dream scenario for any '90s kid back in the day: owning an American Girl doll. The nightmare scenario for any '90s kid today: becoming an American Girl doll. On Wednesday, Feb. 22, the toy company revealed the newest dolls to be added to its Historical Characters collection and, much to the horror of many millennials on TikTok, the figures will take you back to ye olde 1999. Isabel and Nicki are American Girl's "historical" '90s dolls, and they've got those born pre-aughts questioning their age (and sanity).
Sure, Gen Z is obsessed with Y2K fashion the same way '90s kids were trying to recreate '70s-inspired earthy-chic lewks, but to be called "historical" when you're in your late twenties to thirties? To quote Cher from Clueless, "As if!" TikToker Lauren Mineau put it best, "I was not ready for my childhood to be in the historic doll collection." Another user commented on American Girl's announcement, "Did the American Girl TikTok account just call me old?" AG's response: "Maybe." Ouch, guess it's time to request an AARP membership card.
It makes sense to capitalize on the popularity of the '90s, though, and American Girl recently debuted its 1986 doll, Courtney, back in 2020. It was only a matter of time before the brand added a '90s doll to the collection as well, but it still doesn't make the sting any less painful. Millennials are sharing their thoughts on everything from how cringe the dolls are to accessories they would love to see added to the collection.
Reactions To American Girl's '90s Dolls
"A whole generation of girls just felt personally victimized with this launch," one TikToker shared. While the buzz of Isabel and Nicki is totally nostalgic, it hurts to think that the '90s are now being considered "historic." To ease the pain, someone asked, "Can '90s kids have a discount at least," and it's a valid question.
As soon as TikToker @randisael heard the news, she shared a video on TikTok admitting, "I was not prepared to be triggered by American Girl Doll this morning." While she went on to give her take on all the accessories in the collection, TikToker @jennaabarclay pointed out that there was already a '90s American Girl doll released in 1994, named American Girl of Today. At the time, these dolls were contemporary with modern accessories like a giant Mac desktop computer. Now, she's historical like the new American Girl Historical Characters.
Who Are The American Girl '90s Dolls?
For the first time ever, American Girl has introduced twin dolls to the Historical Characters collection. Isabel and Nicki come from the land of Starbucks coffee and Nirvana grunge music: Seattle. American Girl shared, "As the wave of '90s trends and pop culture nostalgia surges on, there's no better time for American Girl to honor this dial-up decade with a story set in the flannel and music capital of the 1990s, Seattle, WA!" Specifically, these dolls are set in 1999, but some TikTokers have called out that their fashion choices read more mid-'90s than late '90s. That may be only a few years off, but fashion really shifted with the Y2K buzz.
Considering Mary-Kate and Ashley Olsen were the It girls of the '90s, it makes sense that American Girl would also choose twin dolls that give off the same aesthetic. The same way Ashley was always more preppy styles, Isabel is wearing a very Cher-inspired 'fit with a plaid skirt, knee socks, platform shoes, and plum-colored beret. Nicki, on the other hand, channels more of Mary-Kate's vibe with chunky, face-framing highlights, a backward baseball cap, and flannel tied around her waist. She looks like Alex Mack of The Secret World of Alex Mack fame. Nicki's description also says she "loves alternative rock music, skateboarding, and making zines," which they have to preface are "like homemade magazines." What a throwback.
The accessories in the collection are super nostalgic as well, like Isabel and Nicki's desktop computer, complete with both CD and floppy disk drives. There's also a Pizza Hut BOOK IT! set. IYKYK. That comes with a personal pan pizza and those iconic red Pizza Hut cups you could get from dine-in locations. However, there are some items that millennials are saying are missing.
'90s Trends That Should Be Added To The Collection
When you see a '90s collection, you expect to see things like inflatable furniture and Tamagotchis, which are available right now, but American Girl is still missing some very important accessories and toys. First of all, where are the Beanie Babies? Everyone was collecting Ty Beanie Babies in the '90s and hoping that one day they could sell them all to become millionaires or, you know, at least pay off their college tuition. It would be cute to see maybe a Princess Diana Beanie Baby.
One TikToker pointed out, "I hope they read The Care and Keeping of You." For many millennials, that iconic book taught them more about their growing body than any public school health class. Another user said, "They need their own Samantha doll for this to be truly accurate." Toys like a Furby, Easy-Bake Oven, Sky Dancers, and Skip-It would make great additions as well. For food, American Girl could include '90s snacks like pizza Lunchables, Fruit Gushers, Hubba Bubba Bubble Tape, and Dunkaroos. Also, in order for it to be accurate, Isabel and Nicki should be listening to HitClips, watching Britney Spears on Making the Video, and have a copy Titanic on VHS. You know, the one with two tapes. These are just some ideas if American Girl is looking for suggestions from the old folks.