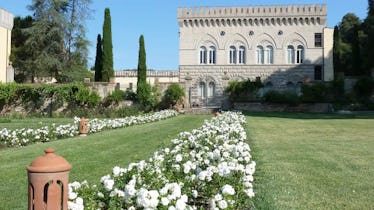 These Wanderlust-Worthy Airbnb Castles Look Straight Out Of Bridgerton
Get your ball gowns ready.
If you've ever dreamed of staying in a dreamy castle (and, honestly, who hasn't?), your wishes can finally come true. There are some truly epic castles available to rent on Airbnb, and they look like something out of Netflix's smash hit Regency-era drama, Bridgerton. Whether you're a fan of the show or you just want to play royalty for the week, you'll definitely want to check out these castles on Airbnb that you and your BFFs can book.
Europe is home to many castles in a ton of different countries, including France, England, Scotland, Croatia, and Italy. Some of them are perfect for just you and your family or a double date vacay, while others are big enough for you and your closest 15 friends. You can enjoy the breathtaking scenery around you, walk or drive to the big cities that surround the serene countryside, try out delicacies that are made on or near the property — including authentic Italian wine — bike around the grounds, and so much more.
If you're looking to treat yourself and take an epic vacay to remember, consider booking one of these beautiful castles on Airbnb. And don't forget to post pics of all the gowns and goblets as you live out your fairytale adventure in real time.
The CDC recommends traveling only after you're fully vaccinated and your vaccine has become fully effective. If you're not fully vaccinated and must travel, check the CDC guidelines before you book. Check your destination's vaccination and testing requirements before you depart.
This article was originally published on