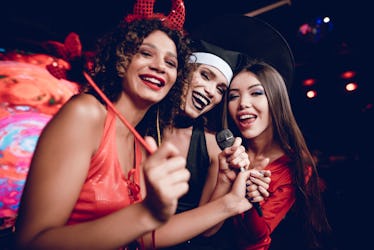 7 Things About Halloween You Loved As A Kid & Still Do As An Adult
Shutterstock
Well, it's officially Halloween season. It's time to embrace all things spooky, scary, and pumpkin-filled. As a kid, Halloween may have meant dressing up as your favorite cartoon character, going trick-or-treating with your best friends in the neighborhood, and eating all the candy. Now that trick-or-treating may be out of the question, there are still exciting things about Halloween you still love as an adult.
I have grown to love Halloween more and more the older I get. It's now my favorite holiday, and October has become my month to shine. Once I begrudgingly stopped trick-or-treating in my neighborhood, I started to realize there was actually an entire world of Halloween fun waiting for me to enjoy. Of course, I still love to partake in some of the same seasonal traditions I've been doing since I was a kid. (And there are new things I add to the list every year too.)
There is no age limit on fun, and if you're also a Hallow-queen who can't want to celebrate 31 days of October, you're probably looking forward to these seven things on your to-do list as we speak. Grab your Pumpkin Spice Latte, gather your coven of witches, and have the best Halloween ever.