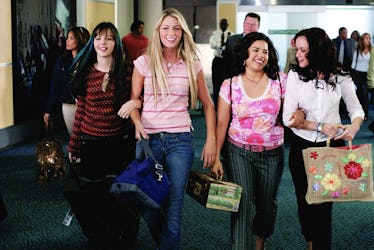 5 Cute Things That All Friend Groups Can Share, Just Like 'Sisterhood Of The Traveling Pants'
Warner Bros.
Let's see a show of hands: Who else wanted to hang out with a friend crew like the girls in The Sisterhood of the Traveling Pants? I know I did. I wanted a group of three girls who I shared all my secrets with, and I also wanted a pair of magical pants that we could bring around the world on our epic adventures. But even if your girl squad doesn't have a pair of jeans like the one in the movie, you definitely have more than a few options if you're looking for that special something to share with the group. Here are a few cute things that all friend groups can share, just like The Sisterhood of the Traveling Pants.
You can pass around a cool suitcase that travels with all of you, or your group can share a nice keepsake box as a joint housewarming gift whenever someone moves into a new place. Your girls are some of the best people you know, so whatever item you decide on, you'll be happy to have a little piece of them that you can hold onto forever. Remember: pants = love. Love your gal pals, and love yourself. Check out these five sweet ideas that'll keep you bonded.