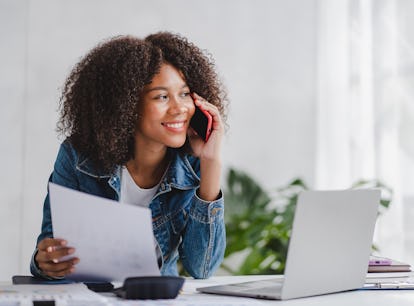 4 Reasons To Let TurboTax Experts Do Your Taxes For You
A celebratory ode to not doing your own taxes.
Shutterstock
As a full-time freelance writer, I have grown more than accustomed to a not-so-simple tax season. Historically, instead of looking at a tidy W-2 summarizing my salary and all of the federal and state withholdings that my employer (presumably a responsible entity) deducted throughout the year, I would often find myself neck-deep in 1099s and crumpled receipts, blinking at a spreadsheet that I created to track my expenses. Inevitably, I would abandon the project after a few weeks in the interest of catching up on TV. As a self-employed wearer of many hats, I thought this was just the way things had to be. That is, until I found TurboTax.
A one-stop, tax-tackling shop for every work and life stage that's literally chock full of tax experts, I now use TurboTax to make "not doing my complicated taxes" a breeze. That's right — I don't do my own taxes. Here are four fantastic reasons you should meet with a TurboTax expert who'll do your taxes for you, from start to finish.
1. You Cannot Scare Them With Your Messy Life
Do you have one main hustle and six side hustles? TurboTax experts won't bat an eye. Did you sell a house, buy a boat, adopt six pets, and start a business all in the same month (which also may or may not have coincided with an existential crisis)? They've been there, done that. No matter what your line of work or financial situation, TurboTax can relieve you from the stress of having to crunch the numbers. And even if you have a relatively simple tax situation (the aforementioned steady job and W-2), TurboTax experts will find every tax break you qualify for, so that you can get back to making money and living your life — whatever that looks like on paper.
2. They Know Every Write-Off So You Don't Have To
Like celebrity beefs and situationships, tax reform changes can be… complicated. When we go it alone, most of us will miss deductions and write-offs that can cut down on what we owe and increase our returns, which makes using TurboTax professionals the best decision you'll make for both your peace of mind and your bank account. For example, I learned that I can write off my streaming subscriptions, since I sometimes write about pop culture, and watching TV counts as research. (Narrator: Amazingly, that's true.) If you work or run a business out of your home — which, thanks to the pandemic, more of us than ever now do — you may be able to deduct a home office space, a percentage of your cell phone or internet, or basic household supplies. But it's never a good idea to guess at this stuff. You don't want to mess with the IRS. So let TurboTax do the work, so you can be done with your taxes and live your best life.
3. They'll Tailor Their Services To Meet Your Unique Needs
Whether you are a freelancer hunting down stray 1099s or a full-time staff employee with a single W-2, TurboTax will customize your service to meet you wherever you are, literally and figuratively. When you use a TurboTax expert, you can choose full service (having the tax expert do your taxes for you from start to finish) or assisted (you have access to live virtual advice sessions and a final review from your expert). But I highly recommend full service, which is priced according to your unique circumstances, so you only pay for what you need. First, you'll answer a few online questions to create a personalized tax plan, and then you'll have a secure welcome call with your dedicated TurboTax expert to discuss your needs and help you gather everything you need to get started. You then securely upload your files and documents to get matched with the right expert for your taxes. Your expert can then start your taxes right away and work with you in real time while you standby. After they've completed the task, you can review everything with your expert before they sign and file for you. The last step is usually a celebratory dance, because guess what? You just successfully didn't do your own taxes.
4. Getting Your Taxes Done With An Expert Frees You Up To Do Literally Anything Else
Not filing your taxes is a no-no, but not doing your taxes yourself is the self-care gift that keeps on giving. You can get back to doing... not taxes. Did you just buy a new house? Get home and unpack a big box of not taxes. Did you just have a baby? Sing not taxes a lullaby. TurboTax knows that every client is unique, but no matter where life takes you, from jobs and side hustles to friends, family, vacations, investments, and other adventures, you'll be able to devote more energy to your passions when you meet with a TurboTax expert who'll do your taxes for you. So what are you waiting for? Go to TurboTax and don't do your taxes.
Available with Full Service products only. Video meeting while expert does your taxes required.