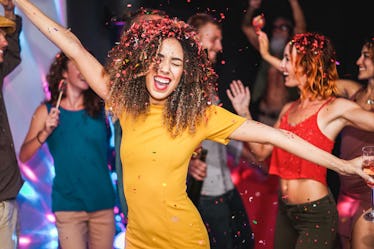 40 Captions For Your 30th Birthday That Say Cheers To A New Decade
Because "flirty and thriving" are so overdone.
Shutterstock
After all the ups and downs of the rollercoaster that is your 20s, you're full of anticipation for turning 30 and officially entering a new era of adventures. However, your 30th birthday is arguably a bittersweet one. While you're saying goodbye to a carefree decade that held some of your best memories to date, you're simultaneously getting ready for the uncertainty of your 30s and all of the new responsibilities (and fun times) ahead. When your big day comes around, make sharing all your celebratory Instagram and TikTok posts so easy with these 30th birthday quotes and captions that show you're ready to embrace your next chapter with open arms.
While many have mixed feelings about getting older, let alone turning 30 and leaving their 20s behind, it's also an incredibly exciting time and you have so much to look forward to in this new decade. After all, there's a reason that it's said that your 30s are the best years of your life. Whether you decide to celebrate big by planning a getaway with your SO, your friends, or solo, if that's more your vibe, or you decide to ring in the festivities closer to home, you'll have plenty of opportunities to capture some glow-up photos to show just how good 30 looks on you with these 40 captions for your 30th birthday.
Because some 30th birthday captions like "30, flirty, and thriving," have been, well, a little overdone, we compiled a list of fun 30th birthday quotes that include captions about saying goodbye to your 20s, serving looks in your new decade, as well as lyrics that'll help you illustrate how you're feeling on your big birthday. Just choose the 30th birthday caption that speaks to you, post your stunning selfie, and get back to enjoying the festivities in your honor.
"Dear 30s, I'm ready for you."
"Talk thirty to me."
"Ready to start a new decade of adventures."
"From the roaring twenties to the dirty thirties."
"This is 30."
"Serving cakes and looks."
"Time to see what 30 is all about."
"Here's to 30 laps around the sun."
"I'm thirty. Still a little flirty, and definitely thriving."
"Here's to the next chapter."
"Aged to perfection."
"Time and tide wait for no man, but time always stands still for a woman of thirty." — Robert Frost
"Welcome to 30, when you're old enough to know better, but still young enough not to care."
"Dirty 30, workin' on me." — Drake, "Diplomatic Immunity"
"To my 20s: thanks for the memories."
"30, and aging like a fine wine."
"Feeling older, but not necessarily wiser."
"Ready to start year 30 of this adventure we call life."
"To my 20s: 'Thank u, next.'"
"Woke up 30 and thriving."
"TFW you've made it through your 20s."
"Ready to start the best year yet."
"On a scale of 1-10, feeling a solid 30."
"+1"
"Ready to see what Chapter 30 holds."
"Season 30, Episode 1."
"Wouldn't want to ring in a new decade with anyone other than this crew."
"30th birthday photo dump."
"Spending my 30th birthday in paradise."
"Pop the champagne, because this girl is 30."
"I'm turning 30." – Bo Burnham, "30"
"30 is still young…er than 31."
"My moment is yet to come." – BTS, "Yet To Come (The Most Beautiful Moment)"
"Cheers to 30 years."
"Who knew 30 would look this good?"
"I may be 30, but I still get carded."
"I'm 30… well in November I'll be 30." – Creed, The Office
"Life begins at 30."
"In my Jenna Rink phase."
"Something really weird is happening. Yesterday was my 13th birthday and then, and then today I woke up and I'm this." – 13 Going On 30
This article was originally published on