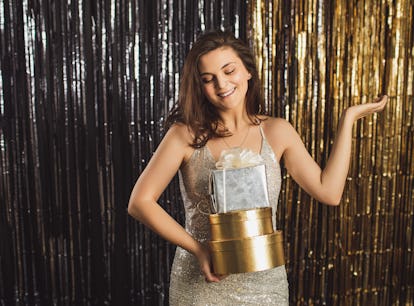 40 Captions For Your 20th Birthday, Because You're Officially Out Of Your Teens
Anastasiia Krivenok/Moment/Getty Images
The big day has finally arrived: your 20th birthday. While it's not technically a "milestone" birthday, turning 20 is still a big deal. You're no longer a teen, which means you may feel more grown up than you did at your 18th birthday. However you celebrate the big day, just be sure to snap a few photos and post with one of these 20th birthday captions about leveling up to adulthood.
Think of it this way: You're going to want to capture this precious, once-in-a-lifetime moment no matter how you celebrate. What better way to honor the occasion than to share photos of you with your besties and a sparkler-lit cake to your Instagram feed? Even better if you can pop in a 20th birthday caption that gets the vibes just right, like "Old enough to know better, still young enough to get away with it." Then you can just sit back and watch the heart emojis roll in.
Or maybe you want to post a birthday photo carousel to the 'Gram to share your celebration with family and friends far away. You could put up photos of yourself throughout the years, with an adorable #tbt photo of you as a kid with the caption, "Never too old to wear a birthday crown." Your last photo could be a current pic of you wearing a crown, just like you did when you were little. That way, you can mark the occasion with a sentimental post, and your loved ones can wish you a happy 20th birthday on it.
At the end of the day, it really doesn't matter how you celebrate, as long as you take a minute to appreciate how far you've come. After all, you're officially out of your teens now, so commemorate this momentous birthday with a sentimental caption for your 20th birthday about growing up. When you look back on your posts, you'll be glad you did.
"20 years, 20 reasons to celebrate."
"On this day, a queen/king was born."
"Gonna party like it's my birthday... because it is!"
"A little older but none the wiser, tbh."
"Year 20, I'm ready! Toss the confetti."
"Chapter 20 begins."
"Looking at my teenage years in the rearview mirror."
"Goodbye, teens. Hello, 20s!"
"Never too old to wear a birthday crown."
"Old enough to know better, still young enough to get away with it."
"20 years old. That's, like, a real adult."
"Made it to Level 20."
"I should start getting serious, but I'll eat confetti cake and wear a crown instead."
"New decade, who dis?"
"Only one more decade until my 30s!"
"Don't grow up. It's a trap."
"Wow, the cake's really lit this year..."
"I'm too young to be this old."
"Keep calm and celebrate 20 years."
"Ready for my entrance into adulthood."
"Is this what growing up feels like?"
"I don't know how to act my age. I've never been this age!"
"Honestly, my birthday should be a holiday."
"Act my age? Maybe next year."
"I don't get older; I level up."
"The countdown to 21 officially begins."
"So this is 20."
I'm pushing 20, got no time for others." — Sabrina Carpenter, "Pushing 20"
"This is for them twenty somethings. Time really moves fast, you were just sixteen." — Beyonce, "Schoolin' Life"
"That's me, Ms. 20 Something." — SZA, "20 Something"
"'Thank u, next' —- me to my teens."
"Manifesting the best 20th birthday."
"To my teens: it's been real."
"POV: this is what 20 looks like."
"Turn my (20th) birthday into a lifestyle." — Drake, "Pop Style"
"Couldn't turn 20 without posting my birthday 'fit."
"Turning the big 2-0 with my fam by my side."
"Officially blasting "Unwritten" for the next decade."
"20th birthday selfies hit a little different."
"Started from the bottom, now I'm here — 20, that is." — Inspired by Drake, "Started From The Bottom"