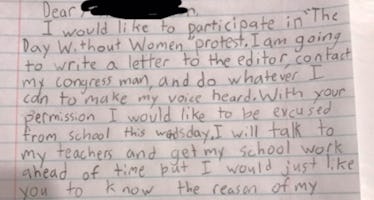 10-Year-Old's Absence Note To Principal Goes Viral For Inspiring Reason
Twitter
In case you didn't already know, March 8 is International Women's Day.
However, this year, it is being celebrated as A Day Without A Woman, according to the Women's March on Washington website.
Of course, women's rights are human rights, and anyone anywhere can participate in the spirit of the day.
But it's not often little kids are ~woke~ enough to join in on something like this — except for Laura Moreschi's 10-year-old daughter, who appears to most definitely be woke AF.
Moreschi tweeted a picture of her young daughter's handwritten absence note, which was addressed to the school's principal explaining how she wished to be excused from school on Wednesday to participate in A Day Without A Woman.
Her daughter wrote,
I am going to write a letter to the editor, contact my congress man, and do whatever I can to make my voice heard.
It seriously just makes my heart happy she told the principal she would talk to her teachers ahead of time about any work she might miss in her absence. This girl sounds like she's Rory-Gilmore-level perfect.
Some school districts have already chosen to cancel classes for the day, including Chapel Hill-Carrboro City School District in North Carolina and Alexandria City Public Schools in Virginia, as several teachers were putting in requests to take the day off in solidarity.
The Women's March on Washington website encourages people everywhere to show their support that day by taking off from work or school, avoiding shopping (with the exception of small, women and minority-owned businesses) and wearing the color red.
It's so unbelievably important young people are taught early on to prioritize standing up for equality and showing their support in an active way.
To explain the real message behind this day, The Women's March on Washington website reads,
In the same spirit of love and liberation that inspired the Women's March, we join together in making March 8 A Day Without a Woman, recognizing the enormous value that women of all backgrounds add to our socio-economic system — while receiving lower wages and experiencing greater inequities, vulnerability to discrimination, sexual harassment and job insecurity.
Citations: 10-year-old writes a letter to her principal explaining why she'll miss school for A Day Without A Woman (Mashable), A Day Without A Woman (Women's March on Washington), The Upcoming "A Day Without a Woman" Strike Has Already Caused an Entire School District to Cancel Classes (Glamour), Alexandria City Public Schools to close for 'A Day Without Women' due to teacher absence (WJLA)