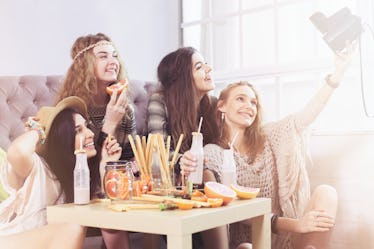 Captions For Your 17th Birthday To Celebrate Your Dancing Queen Moments
There are a few Taylor Swift songs on this list.
Shutterstock
Birthdays are always an exciting time. While turning 17 might not seem like as big as turning 16 or 18, it's a special year you'll want to remember forever. Looking back on all your fave memories will be so much easier with some 17th birthday quotes to caption your Instagram pics. You'll also want to use these captions for 17th birthday photos for the big day and posting your birthday OOTD and any presents you receive from friends or family on Instagram.
Since 18 is when you're officially considered an adult, 17 is really the last year to take advantage of your care-free teen years. This is also the year to cross off all the things on your to-do list that you and your besties have been dreaming of doing together once high school is over. Seas all those summer days by going to the beach or go on road trip adventures every weekend you can. For all these moments to come, you definitely need to kick off your 'Gram journey with an epic 17th birthday post.
That could be a photo dump of all your fave snaps from the past year, a selfie of you with some b-day balloons your BFF bought you, or a super adorable throwback pic from when you were little. Whatever the birthday moment you want to share is, here are 30 17th birthday captions to make posting on Insta as easy as a slice of birthday cake.
"Dancing queen, young and sweet, only seventeen." — ABBA, "Dancing Queen"
"We were seventeen and crazy, running wild, wild." — Taylor Swift, "Starlight"
"Woke up a little older. I'll let you know if I feel wiser."
"And so begins Chapter 17."
"Lean, mean, and 17."
"The kind of radiance you only have at seventeen." — Taylor Swift, "Nothing New"
"So, this is 17? Cool."
"I've never been 17 before. I thought I would try it out."
"I'm only seventeen, I don't know anything but I know I miss you." — Taylor Swift, "Betty"
"I may be 17, but I still feel like I'm 5."
"It's like I'm seventeen, nobody understands, no one understands." — Taylor Swift, "I Think He Knows"
"At 17, I'm serving looks and cake."
"I went forth with an age old desire to please, on the edge of seventeen." — Stevie Nicks, "Edge of Seventeen"
"Now I wish I could freeze the time at seventeen." — Alessia Cara, "Seventeen"
"Seventeen, don't change one thing. Just burn to the end, that's seventeen girl." — Jet, "17"
"You won't be seventeen forever." — Metro Station, "Seventeen Forever"
"It was you and me, and we were seventeen." — Avril Lavigne, "17"
"Taking in that seventeen feeling."
"'Cause we were barely seventeen." — Meat Loaf, "Paradise by the Dashboard Light"
"When I was seventeen, it was a very good year." — Frank Sinatra, "It Was a Very Good Year"
"When I was seventeen I knew just how I wanted life to be." — RAC, "Seventeen"
"Old enough to know better, but still young enough to get away with it."
"Hugs, kisses, and 17 birthday wishes."
"Oh, that's where my birthday crown went."
"I hope my cake is as sweet as me."
"I can think of 17 reasons why we should party."
"And she won't give up 'cause she's seventeen." — The Cars, "Let's Go"
"I'm high-key obsessed with being 17."
"I'm not a girl, not yet a woman." — Britney Spears, "I'm Not a Girl, Not Yet a Woman"
"Today, we celebrate me being 17."