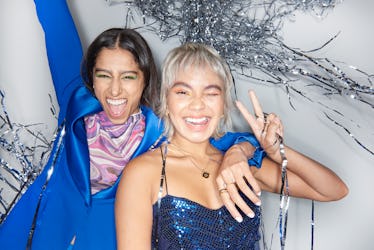 15th Birthday Captions For Yourself To Cue The Confetti On The 'Gram
Taylor Swift said it best.
We Are/DigitalVision/Getty Images
It's your 15th birthday, and you're ready for all the new beginnings this year is about to bring. While turning 15 might not seem like as big of a deal as turning 16 or 18, this birthday also comes with its own big milestones and memories. Chances are you're about to start high school, which will bring plenty of special moments you'll want to remember forever. When it comes time to share your 15th birthday OOTDs and selfies on Instagram or TikTok, you'll want to check out these 15th birthday quotes for captions celebrating this new chapter.
While 18 is the age you officially become an "adult," turning 15 is arguably when you first cross over the threshold into young adulthood by entering high school. Just like Taylor Swift said in the lyrics of "Fifteen," you'll be looking forward to the next four years of first loves (and heartbreak) and the start of lifelong friends as you navigate your teens. There's so much to look forward to, and you'll have plenty of forever memories you'll want to capture and share with everyone online. However, before you kick off your high school chapter, you'll want announce that you're turning 15 to the world with some 15th birthday captions for yourself.
"Tonight, we are young. So let's set the world on fire. We can burn brighter than the sun." — "We Are Young," Fun ft. Janelle Monáe
"Old enough to know better, but still young enough to get away with it."
"POV: You're seeing me turn 15 today."
"15th birthday photo dump."
You take a deep breath and you walk through the doors. It's the morning of your very first day." — "Fifteen," Taylor Swift
"Fifteen Queen."
"Officially starting the countdown to my Sweet 16."
"Woke up like this... 15 that is."
"Wishing I could freeze time on my 15th birthday."
"Lighting up 15 candles today."
"Serving cake and 15th birthday lewks."
"Ready to start my 15 routine."
"This is fifteen."
Celebrating 15 turns around the sun."
"'Alexa, play "Fifteen.'"
"Watch out, world. I'm 15 today."
"Wouldn't want to ring in my 15th birthday with anyone but my besties."
"When the 15th birthday planning is going down in the group chat."
"I'm feeling 15."
"On this day, a queen was born."
"Cue the confetti, because this queen is 15."
"Stay in your birthday magic."
"Don't grow up, it's a trap."
Get The Elite Daily Newsletter
You deserve emails that are actually fun — full of juicy celeb intel, astrology, actually helpful dating advice, and much more. Luckily, our newsletter will bring you all of that, well, daily.