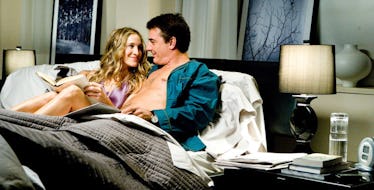 5 Retaliation Tactics For When You Hear Your Neighbors Having Sex
Warner Bros. Pictures
I was lying in bed the other night and watching reruns of Tyra tearing apart 8-foot tall models, when I heard a noise. I paused the episode and tried to listen.
Was there a whining puppy in the apartment below mine? No. Was there a maintenance guy banging on the wall at 11:30 pm? No.
I sat up a little and cocked my ear. Oh my gosh, it wasn't a puppy or a maintenance man. The moaning got louder, and whatever was hitting the wall continued.
Yes, I said moaning. It was my neighbor having sex.
My hand searched for headphones by the edge of the bed as my other hand frantically scrabbled across the keyboard of my laptop to the volume key.
"Louder, louder, please, don't you get any louder?"
Needless to say, "America's Next Top Model" wasn't loud enough to block out what I heard. Yeah, so as I write this, I'm a little sleep deprived.
I didn't fall asleep with my headphones in for fear of choking myself as I twisted and turned with those little white cords around my neck. So, I just stayed up with Tyra and the crying models.
Then, after waking up the next morning and scrolling through Pinterest, I heard the noise again.
"No, it can't be! Morning sex, too?"
I launched myself out of bed, stumbling across everything I could as loudly as possible. If I could hear them, they could hear me, right?
I mean, I know it wasn't his fault. He just wanted to have sex with his girlfriend, and that would brighten any guy's morning.
And yeah, I think it also helped her wake up, but that didn't stop me from wishing passive-aggressive retribution upon them. So, here are a few ideas to put into action when your neighbor starts having sex at not-OK decibels.
1. Have fake sex louder than them (or real sex, if that option is available).
I think this is one of the best. Why not flip the tables on them? You just have to do a little bit of hitting the wall, jumping on the bed and maybe some moaning. You get the idea.
There's an actor in all of us. Bring yours out, and embarrass your neighbors as much as they've mortified you. At least the next time you run into each other in the laundry room, you'll feel like you're on equal ground.
2. Do a workout video with a lot of jumping jacks.
Break out the '70s workout videos. This one's great especially if you have a nice squeaky floor. Between the loud music and you jumping up and down and getting your sweat on, you won't be able to hear a thing. Plus, you're getting a good workout in.
3. Watch "Saving Private Ryan" with the bass up as loud as possible.
I mean, what's a bigger turn-off than hearing gunfire through your neighbor's wall? Between bombs going off and grown men crying, either you will be way too distracted to notice them, or they'll stop because the mood has become considerably more war-like. Mission accomplished.
4. Break out the karaoke machine.
How about singing some early 2000s Britney Spears at the top of your lungs? Why not make it a party? Invite some friends over. Have a little chips and dip, and you'll forget the reason you had them over in the first place.
5. Vacuum.
Not only will you finally get your apartment clean, but you will also definitely not be able to hear anything. And as an added bonus, it will be super loud for them, too. If it happens to be 1 am, they might just get the message.
So, the next time you're lying in bed and minding your own business, and you get a front seat audio tour of your neighbor's personal life, try one of these. I know I will. (I will also be investing in a pair of cordless headphones immediately.)