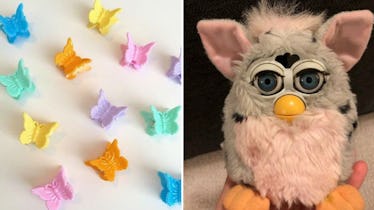 10 Christmas Presents Every '90s Baby Wanted Growing Up & I'm Nostalgic AF
The holiday season is meant for spending time with your family and friends. That means also looking back on memories from past Christmases, and remembering what you asked Santa for each year. I remember getting my wish list all organized for that big trip to the mall to visit jolly old St. Nick, and hoping everything I asked for would appear under my tree come Dec. 25. Looking back at some Christmas presents every '90s baby wanted growing up makes me feel nostalgic AF.
Growing up, there were the "it" toys every kid wanted to get for Christmas. In the '90s, it was the Tickle Me Elmo and Barbie Dream House. Those were obvious picks on your list, but you might be forgetting these other '90s must-haves that you were begging your parents for. Maybe you scored real big on Christmas day, and ended up getting everything on this list. If that's the case, consider me super jealous.
This list is giving me so much inspo, and I'm honestly considering changing up my wish list this year to include a few of them. Also, my one mission the minute I get home for the holidays is to dig around my closet for some of these toys to fulfill my #throwback needs.