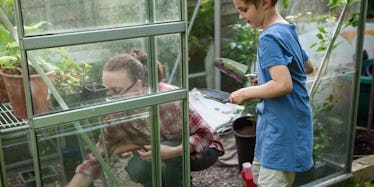 How Young People Can Get Involved With Something Bigger Than Themselves
Before joining the Clinton Foundation in June, I spent several decades of my career in higher education.
Most recently, I was at the University of Miami, and before that at University of Wisconsin-Madison and Hunter College of CUNY.
Over the years, I've noticed that college students are constantly working to break down barriers that divide us to improve the world around them.
I've been particularly thrilled to witness the entrepreneurial spirit that has developed among members of the Millennial generation, who have become known for both their innovative ideas and their early dedication to social good.
Young people today are redefining expectations in terms of when to move out, when to marry and, most importantly, when to start changing the world.
And that's why I'm so proud of the more than 1,000 aspiring world-changers who come together each year for the Clinton Global Initiative University (CGI U).
President Bill Clinton launched this initiative as a platform for college students to address some of our most pressing contemporary problems.
I've taken a huge interest in the promise that's been displayed by this next generation of global leaders. Perhaps it's because I remember being similarly young and ready to make a difference in college, and as a Peace Corps volunteer at 21 years old.
CGI U gives students unprecedented opportunities and expanded networks to convert their ideas and energy into tangible results.
By cultivating and unleashing the unique potential of our students, we can start putting solutions into motion that will improve the future of our planet.
Modeled after CGI's Annual Meeting, CGI U illustrates what's possible when college students step outside the classroom to pursue leadership opportunities in civic engagement and social innovation.
In order to attend CGI U, students must make what we call, commitments to action.
These are new, specific and measurable plans to address a global challenge within the meeting's five focus areas, including education, environment and climate change, peace and human rights, poverty alleviation or public health.
For example:
Marcus Lehmann and his team at CalWave, a UC Berkeley spinoff company, are leveraging CGI U's model to find a way to produce electricity and fresh water by harnessing the renewable power of waves and tides.
According to the Department of Energy, wave energy has the potential to power over 100 million homes in the United States.
Jeremy Goss, a student at Saint Louis University School of Medicine, is carrying out his CGI U commitment to transform a donated public transit bus in St. Louis, Missouri, into a mobile farmer's market to serve all of the 15 food deserts in the city.
CGI U students' commitments to action have been featured by the likes of Forbes, Fusion and even Stephen Colbert.
Most importantly, they are making a difference in communities around the world.
Based on the exciting solutions to emerge from CGI U so far, I'm thrilled that on April 1-3, 2016, President Clinton and Chelsea Clinton will bring together students from around the world at the University of California, Berkeley, for CGI U 2016.
I'm pleased to see universities, businesses, governments and NGOs working together to help young innovators get started, find their passions, become creative problem solvers and make a difference while they're still in college.
And, as the challenges of the 21st century get bigger, so must our efforts.
Whether that's at CGI U, in extracurricular activities at school, or in the community, let's do everything we can to empower more young people to seize the unprecedented opportunities around them.
Hopefully, they can successfully take the lead on the major social, economic and environmental challenges that lie ahead.
CGI U is now accepting graduate and undergraduate student applications to attend CGI U 2016 at the University of California, Berkeley from April 1-3, 2016. For more information, click here. The final application deadline is Friday, December 4, 2015.