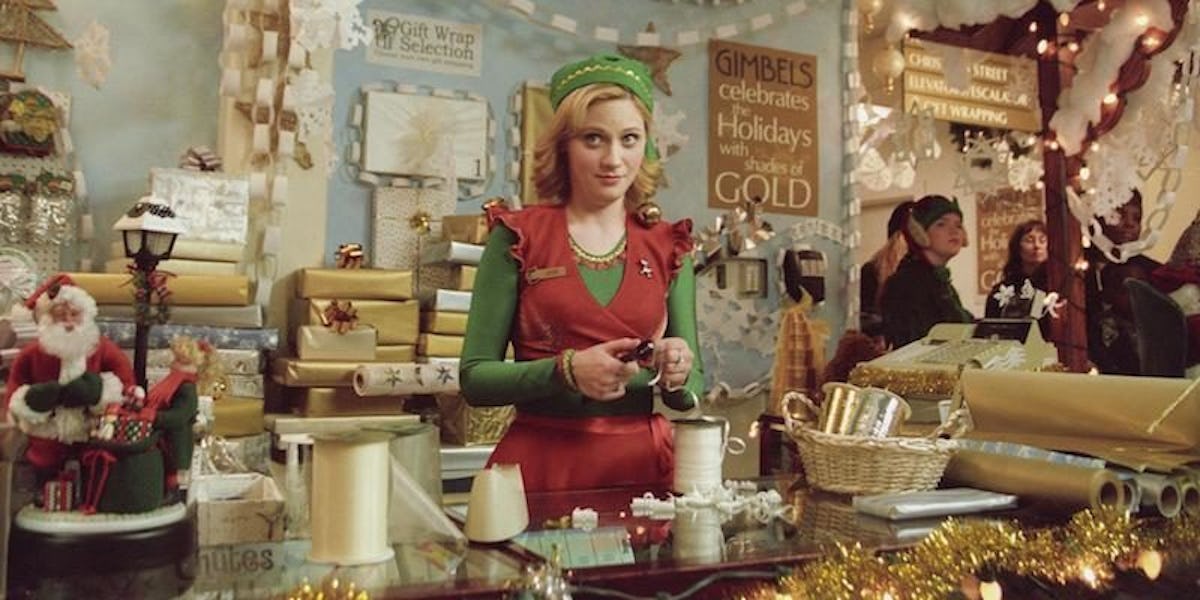 8 Things You'll Experience While Working Retail During The Holidays
New Line Cinema
The holidays mean something different for everyone.
Maybe it's the time when you see your distant family or have a valid excuse to put those recipes to the test and indulge in baking 24/7.
But if you're like the rest of America, you won't deny the fact it's the time you have unofficial permission to lose your mind all in the name of a good sale.
Nothing makes a person go from zero to 100 than 75 percent off prices or an "exclusive shopping" day.
Love it or hate it, retail shoppers during the holidays are of another breed.
Here are eight universal truths about holiday shopping I've learned by working on and off in retail for the past three years:
1. You will find yourself working ungodly hours.
Long gone are the days where work never went past 9 pm.
Remember when you thought an eight-hour shift was a legal form of torture?
Retail hours are where the weak go to die.
Overnight shifts? You'll work them.
Drive to work in the dark? No problem.
Try to make nice with the scheduling manager because that is your only hope for surviving, my friend.
Well, that and the Starbucks on the drive-through.
2. The term "sale" takes on a whole new meaning.
Long gone are the mornings of waking up early to catch the doorbuster sales.
Working during the holiday season is like enlisting in a war.
You give up some of your freedom and fight with all you have.
You are no longer a salesperson, but a soldier.
3. Supervisors will stop at nothing to channel their "holiday spirit."
They will have no limits and no shame.
They will wear reindeer ears. They will bribe you with candy.
They will spread the "holiday cheer" to any customer they come in contact with.
My advice? Smile and avoid them at all costs.
4. At least one mother will break down.
I don't know any other way to say it.
Your daughter is not the only child who took a liking to "Frozen."
I know that's what she asked for, but no matter how many times I check inventory, the doll is still sold out.
Tell her Santa ran out of Elsa dolls?
Tell her Santa doesn't like Disney?
I really am sorry, but I have other customers.
5. Customers will think it's okay to begin shopping on Christmas Eve.
There will always be that one customer who remembers at 9 pm that the next day is Christmas.
I will never understand this customer.
Are slippers the best gift for your wife?
I'm going to take a leap and say no, but beggars can't be choosers.
6. Your job title turns into "Santa's Helper."
I take pride in this one.
I love Christmas and can be found in a Santa Hat any chance I get.
Sure, I am actually just a sales associate, but you better believe I will channel my inner elf during the holidays.
7. Children will get lost, and children will be found.
I never quite understood the parents who decided to leash their children, but I understand them a little more around the holidays.
Calling "Code Adams" is the worst, and no one wants to create a lockdown in the store because you let your 3-year-old wander away.
Frantic parents will panic, and it is the associate's job to stay calm and most likely direct them to the toy section.
8. You will swear off all Christmas songs forever.
Listening to the same 10 songs for months is enough to drive anyone crazy.
I beg that people stop rocking around the Christmas tree and stop dreaming of a white Christmas.
I've learned they will never stop.
Okay, so maybe you won't swear them off forever, but at least until next year.