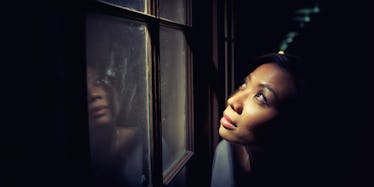 6 Reasons Why Summer Is The Best Time To Get Broken Up With
Unsplash/Pexels
Breakups hurt, no matter what time of year they occur.
Especially when they seem to come out of the blue, it's easy to get caught up in the grief of losing a love.
It downright sucks to hear your partner no longer wants to pursue a relationship, but trying to make things work at that point is just prolonging the inevitable.
When breakups do happen, odds are the person ending the relationship didn't give much thought to the time of year.
While there are pros and cons to being dumped any time of the year, here are six reasons why summer is the best time to be broken up with.
1. Summer is already a transitional time.
Licensed marriage and family therapist, Dr. Gary Brown, Ph.D, reveals to Elite Daily that couples with children tend to separate in the summer in order to give their kids time to adjust to their new lifestyle before going back to school in the fall.
The same strategy can be used for anyone going through a breakup who wants to take advantage of summer's transitional atmosphere.
2. Breaking up in the winter means breaking up around the holidays.
Becoming suddenly single can be a real bummer during the most wonderful time of the year. Any awkward family moments will take an even larger toll on anyone who has to explain why they came home alone for the holidays.
Noted psychotherapist LeslieBeth Wish, Ed.D., author of Smart Relationships, and Founder of Lovevictory.com reveals,
A breakup at Thanksgiving or Christmas or Hanukkah, and other religious celebrations can intensify these strained relationships. Suddenly, the idea of going to parties makes you feel worse.  And New Year's alone -- or with someone who doesn't spark romantic feelings -- makes your situation worse.
3. You can head home or take a vacation to get some distance.
Summer is undoubtedly the most popular time of year for traveling. Once school is out, families hit the road in hopes of beating the heat, and you can be among the travelers if you need to get away.
New surroundings may be just what you need to start moving on from an old relationship. The key is to keep an open mind and accept whoever you are, wherever you are, in a given moment.
4. Your family and friends are likely to be more active during the summer months.
There are summer jobs, internships, and opportunities galore. Friends are home from college and are ready to catch up on a year's worth of adventures.
Trina Leckie, host of the Breakup BOOST podcast, reveals,
It's the best time of year to distract yourself… and distracting yourself is crucial in moving on from a broken heart. The worst thing you can do is isolate yourself and overthink things to death.
According to Leckie, mindset is everything no matter the time of year. She continues,
As with anything, you really need to put yourself in a positive mindset, get out there, have some fun, make way for new energy… and maybe even a new relationship.
5. Summer fling, anyone?
While rebounding (beginning a new relationship shortly after ending one) may not be the safest way to go, something casual might help you begin to move on.
In a lot of cases, the person who's been dumped doesn't believe that they can find another partner in the future, so a casual relationship can help them realize that it is not the case.
6. You can spend some time outdoors to help ease the heartache.
With the sun out for longer periods each day, the summer months give plenty of opportunity for you to soak up the vitamin D your body needs.
Licensed marriage and family therapist Nicole Richardson credits increased sun exposure to higher levels of serotonin -- aka the "happy hormone"-- in the body.
A similar effect occurs with increased activity, so get active in the sunshine.