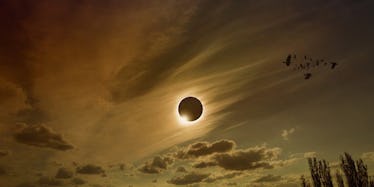 Here's Where You Can Buy Solar Eclipse Glasses For Protection While Sky Gazing
Ig0rZh/Fotolia
With the Great American Eclipse less than a week away (it's on Monday, Aug. 21), millions of Americans are preparing for the big celestial event. It's no secret that looking at the sun on any given day can cause serious eye damage, but the same still applies during a solar eclipse. According to NASA, the only time when it's safe to look directly at the sun without risking severe eye damage is during totality -- the phase when the moon's shadow is completely blocking the sun's rays. For safe solar eclipse viewing, you'll need a certified pair of eclipse glasses. Knowing where to buy solar eclipse glasses has not been an easy task in preparation for this solar eclipse.
With so many people in the path of totality during this rare event, eclipse glasses are selling out fast. It can be hard to get your hands on a real pair since counterfeit glasses are being sold all over the internet, too. The proper eyewear for the eclipse is approved by the International Organization for Standardization (ISO) and the American Astronomical Society. These glasses will filter no more than 0.00032 percent of the sunlight to your eyes, to keep your retinas safe and your view as clear as possible.
Apart from certified vendors, libraries across the United States are hosting solar eclipse viewing events and will provide eclipse glasses to those who attend. For private viewing, however, you'll have to do some research and online shopping. Here are some ISO-approved eclipse glasses that you may be able to track down in time for the eclipse.
1. American Paper Optics
Stock Eclipse Glasses, $100 for 25, American Paper Optics, LLC
Not only are these glasses ISO-approved, they're Bill Nye-approved, too. While they sell for only $4 each, you'll need to buy a minimum of 25 to actually place an order. They're in high demand, so have a group pitch in to buy, or donate the pairs you don't need to a school near you.
2. Avenues Of The Sky
Rainbow Symphony Eclipse Glasses, ISO and CE Certified, $65 for 5, Avenues Of The Sky
While these might cost you a few more bucks, you're still getting the same certified protection from the sun's harmful rays. You're getting a pack of five for the price listed, so you're bound to have some to share. According to the website, there isn't much in stock left for the eclipse, so get to it before they're all sold out.
3. B&H Photo And Video
Lunt Solar Systems Solar / Solar Eclipse Viewing Glasses (5-Pack), $15, B&H Photo And Video
Lunt's ISO-certified solar eclipse glasses are also being sold at B&H Photo and Video for about $3 a pair. While it's cheaper than buying on Amazon, B&H won't have the glasses available until August 17, so you'll have to pay more for faster shipping. Keep this option in mind, as authentic eclipse-viewing glasses are incredibly hard to find, even online.