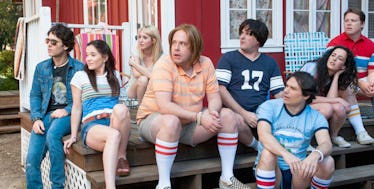 Turn 'Wet Hot American Summer' Into The Best Group Halloween Costume
Netflix
It's likely that you spent much of August binge-watching Netflix's Wet Hot American Summer prequel (but only after re-watching the original film first). This TV show has to be one of the most legendary reunions we've seen in ages, and it's only right that we celebrate it with an epic Halloween group costume.
We've got all the inspo you need to crank out this seventeen-person squad costume the *right* way. So break out the puka shells and short-jorts, because it's 1981 all over again!
Pssst --- we made these looks *entirely* from thrift store finds, plus our own treasured stash of puka shells we just couldn't seem to throw away.
Andy: TBH, Andy's look is all about the bad attitude and trademark "pfffft" smirk. If you don't have a motorcycle to irresponsibly dismount, stick with the denim on denim paired with a black graphic tee, floppy hair and aviator shades. Don't forget that solo puka shell on a hemp cord necklace!
Katie: For everyone's favorite not-so-innocent girl next door, we paired a sailor-striped shirt, cutoff shorts and our beloved puka shells with some serious pigtails.
Gerald "Coop" Cooperberg: Always enamored with gals out of his league (sorry dude, it's true), Coop is notorious for his black bowl cut mop, too-short denim cutoffs, tube socks and the garrish hemp puka necklace his "girlfriend" Donna gifted him on the first day of camp. Finish the look with a lovesick face and you're on your way.
Don't forget about his mega crush on Katie.
Susie: We have to say, we were most excited to see Amy Poehler reprise one of her very first silver screen characters. The easiest way to channel Susie's preppy East Coast ensemble? A pastel polo shirt. We paired her polo with khaki bermuda shorts and white tennis shoes. The true transformation comes from the feathery bob 'do that Susie sports, which we achieved using our trusty faux bob hack.
Ben: We gave Ben a collar-popped pink polo to match with his kinda-sorta-boo, Susie. Be sure to tuck the polo into the tennis shorts and finish the get-up with boat shoes.
Pro Tip: The more polos, the better! Don't be afraid to layer those bad boys
Beth: Although it's supposedly 1981, Beth hasn't completely left the '70s behind. For her look, we went with a paisley hippie blouse, denim bell bottoms and some good ol' Birkenstocks. For hair, we had to go with her trademark skinny braids and severe middle part. (Admit it, we all rocked these at some point.)
Henry Newman: Aviator reading glasses + blonde broom mustache + semi-unbottoned oxford = Professor Henry Newman. Done.
We're so happy these weirdos got together.
Lindsay: For Lindsay's get-up, we grabbed a slightly too-small crop top, some seriously high-waisted bell bottoms and the essential puka shell necklace. Go with a side part, big teased hair, sassy eyes and all the bubblegum and you've got yourself a costume.
Gail: Owner of perhaps the weirdest storyline in the original film, the forlorn preppy art teacher sports a pastel polo, oversized jewelry and matchy-matchy accessories. Perm optional.
McKinley: We adore McKinley for many reasons, among them his constant need to lunge in a track uniform throughout the film. Grab your old running shorts, a slightly tight tee and tube socks and call it a day.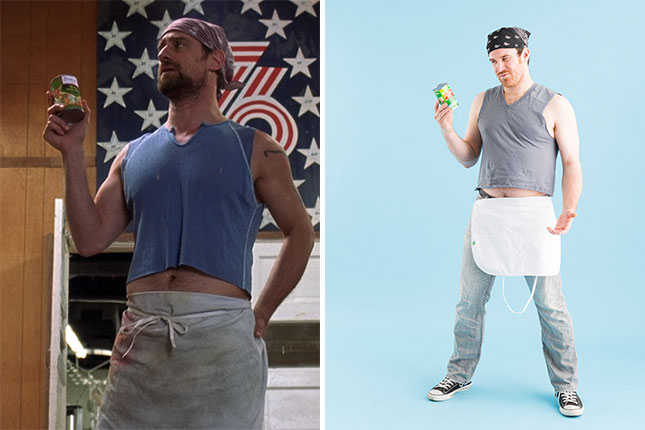 Gene: A cropped and tight t-shirt, jeans, half-apron and bandana are all you need to become the resident Camp Firewood creeper. Add a can of tomatoes for a truly accurate costume.
Abby: Oh, Abby. For this one, pick up a bright pink shirt, matching short-shorts, some face paint and, most importantly, bubble gum.
Victor: Here come the jort shorts again. Pair 'em with a tight sleeveless tee, sweatband on your wrist and outlandishly curly black hair to nail Victor's vibe.
Neil: Don an old-school crewneck tee with contrast trim, some tube sock action and aviator reading glasses to embrace this lovable nerd's character.
JJ: All you need to be the guy who's friends with everyone? Athletic shorts, an oversized polo and tube socks. If you're not packin' enough weight, stick a pillow under a tank top and then cover with your polo.
Gary: Perhaps the the most sane dude at Camp Firewood, Gary was tasked with witnessing all the crazy of his fellow campers and staff. Channel his look with a baseball tee, track shorts, aviator sunnies and an apron.
Steve: Remember the guy who used a rooster as a gun and voluntarily spoke like a robot for most of the original film? He's integral to the cast and should definitely not be overlooked. Sport an oversized polo, tube socks and a big curly 'do... and speak like a robot all night.
Yep, best group costume ever.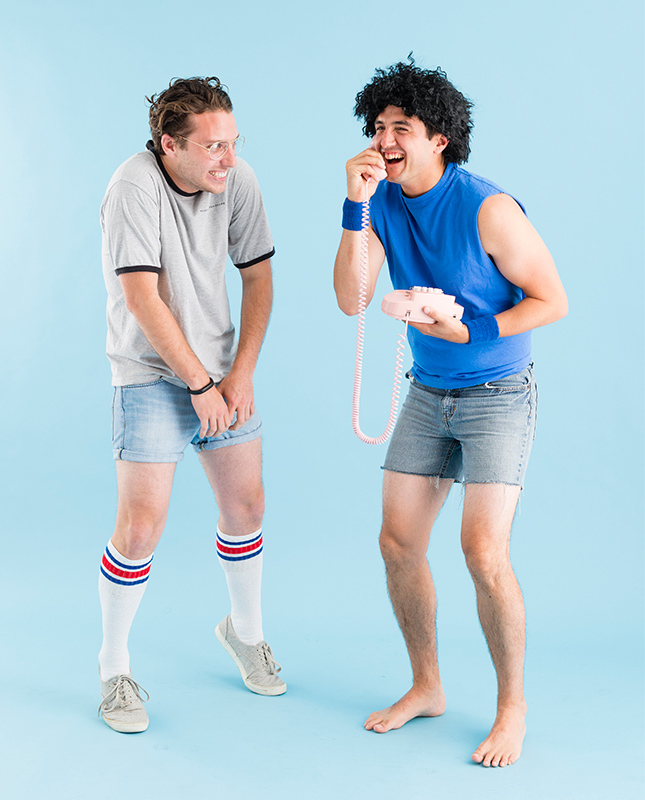 Name that scene!
DIY Production and Styling: Kelly Bryden Editors: Maddie Bachelder and Roxy Taghavian Models: Sarah Vogt, Anjelika Temple, Maddie Bachelder, Ashley Fischer, Sean Griffis, Zane Riley, David Temple, Cortney Clift, Bryan Lemos, Johnny Walker, Ashley Reed, Mike Schierberl, Max Salit, Kurt Andre, Sterling Montes, Shanan Delp, Steve Cox  Photography: Kurt Andre and Brittany Griffin Photos of WHAS via Netflix