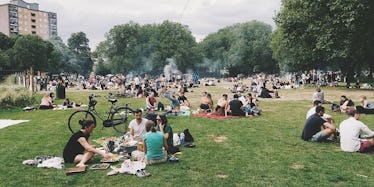 6 Fun Ways To Cool Off In The City This Summer When You're Constantly Sweating
Rob Bye/Unsplash
Being in the city in the summer is portrayed to be oh-so magical.
The dark, drab days of winter and rainy days of the spring are well behind us. Now, it's all about partying in beer gardens and soaking up the rays during boozy brunch.
Instagram and our favorite movies make it look wonderful, but in reality, you feel like a sweaty AF mess.
With just one step outside into the humidity, you can kiss your flat-ironed hair goodbye.
The heat coming off the buildings, mixed with what feels like a humid chamber of hell when the subway's delayed, makes you want shed every layer of clothing you're wearing.
It's hard to stop sweating, but here are six ways to keep cool this summer in the city.
1. Cool Off At A Trendy Pool
Unlike the suburbs, where a bunch of your friends may have pools right in their backyards, it's a little more difficult to find one in the city.
Some apartment buildings have pools, but a lot of hotels do, too. You can check and see if there's a hotel nearby that has a day pass for their rooftop pool.
Nothing sounds more relaxing than sitting poolside with a glass of sangria in hand while beautiful buildings surround you.
2. Make An Indoor Adventure Bucket List
When it's hot outside, all you want to do is stay indoors with the air conditioning blasting. That may sound a bit boring, but there are actually so many cool things to do inside.
There might be a museum you've been dying to check out but haven't had the time to just yet. Now is the best time to go.
It doesn't get any better than keeping cool with some wine while taking in the modern art.
3. Find A Refreshing Treat
Ice cream is a staple snack for anyone who wants to keep cool this summer. If you're looking to switch it up a bit, fun food trends are literally everywhere.
Since it feels like every food has a unicorn version nowadays, why not try a unicorn ice cream sandwich, or a Unicorn Parade milkshake? Keeping cool has never been so colorful, magical, and Instagram-worthy.
4. Buy Tickets To As Many Matinee Movies As Possible
Summer is the best time to see those movies on your bucket list. Blockbusters are coming out every weekend, and there is always something you want to see.
Take time to relax during the hottest part of the day by going to a matinee movie. Not only is it an escape from the sun, but you can almost always get cheaper tickets.
Find a theater with recliner chairs, and it's like you're at home — but with fresh air conditioning blasting.
5. Round Up The Squad To See A Live Show
If movies aren't your thing, there are Broadway or even ballet shows that offer matinee performances.
Round up your friends and enjoy the wonderful live theater. It was always a summer tradition of mine to go see the American Ballet Theater at Lincoln Center during its summer season, and I loved every second of it.
6. Find The Perfect Summer Sun Hat
Nothing helps with the sun and sweating more than a fun, summery hat.
Make it your mission to visit some of your favorite stores and find one perfect for your style. Heck, going from store to store -- aka, air conditioning to air conditioning -- can just be a fun way to escape the heat and cool off as well.
Don't let the heat ruin what could be an adventurous summer in the city. You don't have to turn into a wet mess of sweat.
You can still have an extremely cool summer worthy of any Instagram story.