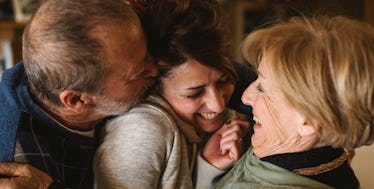 5 Ways My Dad Tries To Keep Our Family Close Every Single Day
My dad, simply put, is the greatest man I have ever met. He is hard-working, kind, loyal, patient and smart, and he always has a smile on his face. I've always appreciated my dad, but as I've grown older, I've come to realize how blessed I am to have such a great male role model in my life.
I come from a semi-large family; I have three older brothers, plus my mom. My family is very close, and I know my dad is the glue that holds us together.
Here are five ways my dad keeps my family close every single day:
1. He dedicates his life to others.
My father is a well-known physician in my small town. Pretty much every where we go, somebody recognizes him and praises him for his kindness. He has help so many people through their illnesses or the illness of a loved one.
Through my dad's example, me and my family have realized the importance of a life dedicated to helping others. Through helping others and each other, we've grow even closer together. He has even inspired me to pursue a career in nursing and my brother to become a doctor.
2. He keeps us in touch.
Although family group texts can be annoying sometimes, I can always count on my dad for a "Good morning, I love you," "Have a great day!" or "Good luck on your test." Just a little reminder of how much my dad cares can sometimes make a huge difference. Whether I'm really stressed or just having a bad day, he always reminds my family to think of each other.
3. He shows us what's important.
When it comes down to it, life is pretty simple. Many of us, myself included, tend to overthink everything. My dad has an amazing ability to literally be immune to stress. He will come home after working for an entire weekend with little sleep, and he will still have a smile on his face.
I've always admired my dad for this, and I wonder how he does it. But, he always reminds me it's pretty easy: Have faith, love yourself and others and be kind. The rest will take care of itself.
4. He has great taste in music.
For me personally, music and life pretty much go hand in hand. Music has the ability to amplify pretty much any feeling in life. My dad is a huge fan of music and has passed this down to me and my brothers. Luckily, he has really good taste in music. Not only does music help us get through life, but I also think it has an amazing ability to bring people together.
5. He is the perfect example of what to look for in a SO.
I am 24 years old, and I've never had a boyfriend. Yes, you read that correctly. And no, I am not a freak (or at least, I don't think so). Many people seem to question this fact about me and always ask me why I'm still single.
I think I finally know the answer: My dad has some pretty big shoes for my future SO to fill. My dad is my go-to person for everything. If I want ice cream, he'll get it for me. If I need someone to study with me, he'll do it. If I'm working a 12-hour shift and need coffee, he'll be there with Starbucks in a minute.
So, until I find a guy who will be just as good to me as my father, I'm not going to settle. So thank you, dad, for always being there. I love you, and I don't know what I'd do without you.