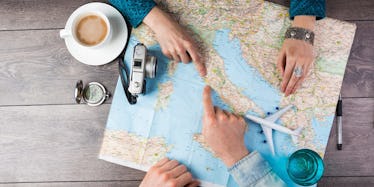 Why Traveling In The Winter Is The Best Time To Vacation
Shutterstock
Here's a little advice for all of you busy working bees out there: Stop using up all your vacation time on summer holidays.
Summer has all the right vibes. The sun is out, people are happy and there's a never-ending stream of things to do.
But contrary to popular opinion, vacationing in January and February might actually be a better option for you.
A few years ago, I started traveling during the winter months. I live on a northern island in Canada, so you can imagine why I'm eager to leave when the snow starts piling on thick.
But there were other surprising benefits to traveling during January and February.
Here's what I learned:
1. Winter can be downright depressing.
Sure, if you're the type of person who lives for the ski slopes, you're probably more excited about fresh powder than powdery beaches.
But if you're more like me, the gloomy chill of winter can actually impact your mental health. It's called Seasonal Affective Disorder. Yes, SAD. How appropriate.
Breaking up those long winter months with a fun trip to the Caribbean won't only be an awesome experience, but it's also good for your health... literally.
Slather on that sunscreen and soak up the sunshine, baby. Your brain will thank you.
(Or you could also get one of those light therapy boxes, but where's the fun in that?)
2. Prices are way, way better (especially if you collect points).
Other than the brief period around Christmas, prices tend to be insanely more affordable when you travel in January/February.
That's because airlines anticipate less traffic. This isn't exactly true for warm destinations like the Caribbean, but if you're looking to book some domestic travel (or travel to other non-tropical places), you're in luck.
My favorite flight-booking tool, Skyscanner, allows you to view prices for the whole month, and then compare those prices against other months.
If you're a rewards collector as well, traveling in the off-season will take you much, much further on your points. The number of points required during the on-season is sometimes doubled compared to the off-season.
The same goes for hotel bookings. I've stayed in some pretty swanky rooms at a fraction of the cost in the winter months.
3. You'll consider visiting new destinations you never thought of before.
Perhaps Europe has been at the forefront of your mind. Perhaps you've been holding out for gelato tasting in the streets of Rome, or a picnic under the twinkling Eiffel Tower.
I can't fault you on that. Those are amazing experiences.
But what about a drive through Costa Rica's cloud forest? Or a relaxing vacation on Guatemala's Lake Atitlán? Or how about you hightail it to Thailand and party all day on the beaches of Koh Phangan?
The world is a big, big place, my friend. A little bit of research and travel planning can go a long way. And when you're there sans tourists, the experience will be 10 times better.
4. Popular summer destinations, like Europe, are surprisingly wonderful in winter.
Honestly, Europe is amazing year-round.
Last year, I spent my first Christmas abroad while living in Berlin. I was expecting a struggle, as I had never spent a Christmas away from home before.
As it turns out, Germany is magical in those long, cold months. Everyone hangs out at gorgeous Christmas Markets, and I spent most of my time consuming copious amounts of glühwein (mulled wine).
It's not just Germany, either. From the markets in Belgium to the snow-covered peaks of the Swiss Alps, traveling in those winter months is a constant surprise, even if you'd rather sit in front of the lodge's fireplace rather than zip down a ski hill.
5. You'll escape the tourism masses.
If you're an introverted kind of traveler, the hordes of tourism crowds can be more than a little overwhelming.
Imagine visiting Vatican City and having a front-row view of the paintings without having to raise your camera over the heads of dozens of other visitors.
What would it be like to climb the stairs at Machu Picchu in Peru and not have to compete for the best photographic views?
Personally, those dense crowds really bum me out. I'll make some sacrifices (i.e. warmer temperatures) for a better experience.
There's no one right way to travel, but good things happen when you stray from the norm.