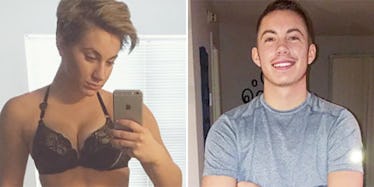 Transgender Male's Before And Photos Give Insight Into Transition Process
Instagram
A 21-year-old transgender male has gained notoriety on Instagram for posting a series of before-and-after photos that show just how much change can occur during the transition process.
That 21-year-old is Jaimie Wilson, an aspiring musician who underwent surgery in 2015 to facilitate his transition from female to male.
Now, in 2017, Wilson is telling more about his story, his transition and the events in his life that led to the pivotal decisions concerning his gender.
Wilson knew that he would "grow up to be a guy" since the age of 5, and he left his home while in high school because his relatives treated him badly.
He told Cosmopolitan this week,
I was not welcome back home ... I was banned from going there because of what people might think. They have tried to come around [since] but at this time I don't have a relationship with my family.
Wilson's Instagram not only features side-by-side photos, but he also shares images of him working out, taking post-surgery pictures and flicks of him getting ready to take shots of testosterone.
As for why he's sharing his own photos, the answer seems to come down to his own experience looking at other LGBT+ Instagram pictures, which he says were helpful.
Wilson told Cosmo,
[The images] gave me hope that I could physically change my features, and [an understanding of] how much testosterone can change someone.
Wilson also posted photos like the following, showing him standing with bandages around his chest two days after his surgery.
In another caption for one of his photos, Wilson got more specific about his reasoning for posting the before-and-after pics and what he hoped they'd accomplish.
No one's journey is the same...so stop comparing yourself to others. When I came out people refused to believe I was a man because of how "feminine" I presented for 18 years. So why am I posting this comparison? Because I want people to see it doesn't matter what some LOOKS like...
One thing's for sure, Wilson's photos definitely provide insight into a process that, for most people, might be challenging to understand.