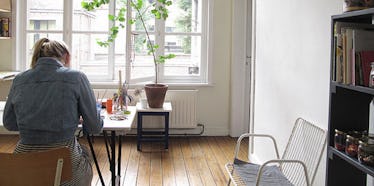 Don't Give Up: 8 Ways To Manage Your Time For Success Post-College
Tumblr
The first few months out of college are exhilarating. It's summertime, you don't have fall classes lined up and anything seems possible.
It's exciting to know that you are the master of your fate and don't have to deal with strict class and extracurricular schedules.
It's great until it's not.
Whether you've secured a job yet or not, wasted minutes can turn into wasted hours in the blink of an eye.
Old passion projects may fall to the wayside because the hours after work (or in between job searching) never seem to be enough.
So what's a new grad to do?
Time management tips I learned after college:
Are you overwhelmed by your to-do list? Are you frustrated with a lack of progress in your personal pursuits? If so, these tips are for you.
1. Eat the frog. One of the simplest time management techniques is learning to eat the frog. Not literally though.
Do the most difficult thing you have to do each day before anything else. The saying comes from Mark Twain, and it means that the longer you put something off (like eating a frog) the more you'll psych yourself out.
Difficult tasks only become more difficult the longer we obsess over them.
This could mean emailing a client or calling to follow up on a résumé. Whatever your frog is, eat it first thing in the morning.
2. Set goals the right way. Pick three things that are most important to you right now and write them down.
Break the goals down into sub-goals and smaller tasks until you've created a roadmap for achieving that goal.
Then set a reasonable timeline (be honest with yourself here). You often can't achieve anything that's worth achieving overnight, so plot out a proper timeline and track your progress.
This isn't only for work. Remember those activities you were most passionate about in college?
Keep setting the bar high and give yourself permission to set your own personal goals as well as professional ones.
3. Stop procrastinating now. After you've made your goals list, don't wait to get started. It is true; getting started is the hardest part.
Pick the smallest task on your to-do list and tackle it today. Cross it off. The feeling you get when you cross it off is accomplishment.
Use that feeling to motivate yourself through the rest of the list.
If you're a list-maker like me, it's helpful to add small things like "take a shower" to your to-do list.
Even though it was something you were going to do anyway, crossing things off your list motivates you to achieve the rest of your goals for the day.
4. Start single-tasking. In today's work environment, there's hardly a focus on single-tasking.
Unless you've been told to be instantly available, shut off real-time email notifications, exit Facebook and put your phone on silent.
There are applications and browser add-ons (I like Limitless) to help evaluate your productivity for the day.
Time tracking (I use Toggl) is also helpful to see where you spend most of your time each day, and helps you plan each day properly.
5. Plan ahead. Learn to plot out your day before you get started so that single-tasking comes more easily. Handwriting your tasks for the day will help you be more efficient.
I recommend using a planner that lists the day out in half-hour increments to help you visualize tasks for the day.
Not sure what the day brings? Plot your morning first thing and then plot your afternoon after lunch.
6. Ditch Facebook. I know this is a bitter pill to swallow, but it's time to reevaluate your social media use. Seeing as the average user spends roughly 12 hours a week on social media, you're probably wasting valuable time.
If you need convincing, track your time spent on Facebook and other social networking sites for a whole week and consider the time you spend.
Can it be put to better use? Could you reach one of your goals in the time that you spend on social media?
Try temporarily deactivating your Facebook. You can reactivate your account at any time, but you'll find that the longer you are without it, the less you actually want to use it.
7. Schedule extra-curricular activities. One of the most difficult parts of becoming a "real adult" after college when I got my first job was that I felt like I had no time to do what I really loved doing.
I stopped working out and stopped writing like I had been doing in college. It's taken me three years to realize that the things I love doing won't get done unless I plan them out.
You don't realize how scheduled your life is in school until you've left it. Whether you have a job or are still searching, don't let it consume you.
It's not healthy for you or your career to let go of your favorite creative hobbies and side projects.
Now, when I plan my day, I try to include an hour or more for writing and for working out. This goes back to giving yourself permission to spend time on the things that you love. It's also essential for avoiding burnout.
The most important rule for time management:
Here it is, the most important rule I've learned when it comes to time management: Get back on the wagon.
When something falls off your radar, it's not a lost cause. Get right back on the wagon and continue working toward your goals.
Part two of this rule is to be gentle on yourself when you do slip up.
Positive self-talk goes hand in hand with proper time management, so treat yourself like you'd treat a friend. How would you talk to a frustrated friend who's missed a task?
Don't beat yourself up when you skip a workout or miss a deadline. It's cheesy, but don't give up.
If you allow giving up and negative self-talk to become parts of your routine, you'll end up in a cycle of negative feelings and actions.
Time management after college is entirely different from time management in college, and it takes some energy to acquire the skills you need.
If you still have questions, ask your peers or managers how they manage their time. Chances are, they have their own techniques that you'll find useful, too.
What have you learned about managing your time since you graduated?