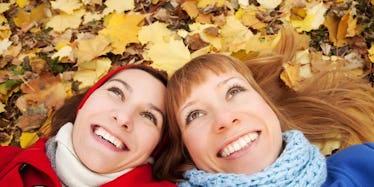 6 Things Only You And Your Sister Fully Appreciate About Fall
legenda/Shutterstock
Over the years, you and your sister have grown to appreciate many of the same aspects of life. Seasons and all of the spectacular things they have to offer are included. Fall is all about renewal and freshness -- qualities everyone could use after going ham all summer long. But not everyone will perceive fall the way you and your sister do. Call it cheesy or weird, but there's a list of things to do with your sister in the fall that only the two of you will fully appreciate.
There's plenty to look forward to in the fall if you're willing to leave summer behind you. You and your sister just happen to be looking in the same direction of anticipation, and there's nothing wrong with that. Who doesn't want to face a new season with someone who will adore it for all of the same reasons as you do? Fall will never be the buzzkill of the year for you two, because just like you appreciate the differences and changes you two have, you respect the same from the season. Each season has its perks, and you're absolutely ready to grab the reigns of fall and ride it out with your other half.
1. Outfit Assembling Is Simple
You and your sister put your boots, leggings, beanies, scarves, and sweaters on repeat throughout the fall. Putting together an outfit couldn't get any easier. There's still a lot of options to explore with the limited items you need to stay bundled up.
2. Chick Flicks And Wine Nights
Fall is a great excuse to be a homebody. Throw in some wine and any movie starring Ryan Gosling, and you and your sister are there for it. Netflix and chill was clearly created for the fall.
3. Baking Random Treats
Not that it's a competition, but you and your sister get into the spirit of cooking your own treats in fall. Whether it's from Pinterest or the Food Network, you're prepared to channel your inner Betty Crocker. Pumpkin spice muffin, anyone?
4. Wearing Sweats Is A Lifestyle
Sweats are the universe's way of telling us to sit back, be yourself, and relax. Fall is the gateway to this freedom, therefore you and your sister participate to the max. Do you know how many styles of sweatpants there are out there? Too many to count.
5. Sharing Oversized Sweaters
Imagine not only being able to dive in your closet for sweater options, but also your sister's? Because you have the same hype over fall, there will be so much to choose from. Sharing really is caring when it comes to oversized sweaters for fall.
6. Fall Sales Are Everywhere, And You're For Them
Not every fall activity has to involve sitting on the coach. Sales are definitely one way to persuade you to shop until you drop. Besides, how else are you going to get your Christmas shopping done early? Appreciating fall is one of the many things you share with your sister. But of course, she's the one thing you appreciate year round, day in and day out.