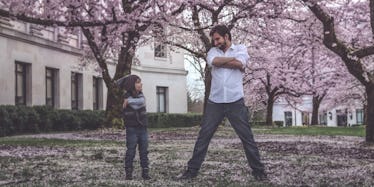 7 Fun Things To Do With Dad If You're On A Tight Budget This Father's Day
Olichel/Pixabay
There are countless ways to show Dad how much he means to you, but we can't all afford the grandeur of a luxurious gift.
While he may be worth more than a Caribbean cruise or a shiny new sports car, Dad will appreciate something small and meaningful just as much. 
If you need a few ideas for Father's Day that won't break the bank, look no further. Here are seven fun things to do with Dad if you're on a tight budget.
1. Cook Dinner Together
Food can easily get expensive, especially when you opt to eat out. To save a few dollars on Father's Day dinner, make a yummy meal at home as a family.
This way, Dad can get what he wants for dinner, and he'll be able to spend time with his family while making it. If he needs a break, let him relax while you take care of dinner. 
2. Help Dad Around The House
Dads do a lot, so a little help can go a long way. Some fathers like to get a few things done on Father's Day, while others like to rest.
Whichever kind of dad yours is, he will definitely appreciate a helping hand around the house. Taking care of a few menial chores together will make the time fly by.
3. Go Out To Breakfast, Or Boozy Brunch
Going out for lunch and dinner can get crowded and pricey, so breakfast may be your best bet... and you'll still get into the festive mood by going out.
If you're looking for a more upscale option, why not make reservations for a boozy brunch? 
On the flip side, a simple breakfast in bed can be just as meaningful. Let Dad know that today is his day, and let him get all the bacon and pancakes he wants. 
4. Spend Some Time Outdoors
Whatever Dad likes to do, it can probably be done outdoors.
Being outside gives any activity a unique summery vibe that Dad is sure to enjoy. National and State Parks are open late during the warmer months, so take advantage of their low admission fees. 
Water sports like fishing, boating, and kayaking are great for the entire family to enjoy. If you're looking to break a sweat, try a local hike or bike ride. 
5. Get Sporty
Bonding with their children over sports is a common fatherhood pastime, but special nonetheless.
If you live in an area with local sports teams, surprise Dad with tickets to see a game. Many lower-league professional teams offer tickets for significantly cheaper than the major leagues.
If it's a stay at home kind of day, bring Dad his favorite snacks as he browses the sports channels. You can even challenge him to a basketball or wiffle ball game of your own if you're feeling particularly sporty.
6. Flip Through Family Scrapbooks
While our moms are known for their ability to reminisce endlessly about their children, our dads secretly enjoy it, too. 
Make some popcorn and take a few hours to watch home movies, or flip through old family scrapbooks. Parents tend to get emotional about this sort of thing, so have some tissues and hugs ready to go.
7. Hit Up The Movie Theatre
Matinee shows at the movie theater are a great way to save a few bucks on seeing the latest summer blockbuster. Take the fam to see a movie of Dad's choice to honor the number one man in your life. 
Even matinee screenings are pricey compared to Netflix or Redbox, so plan a movie night at home if you're feeling that route.