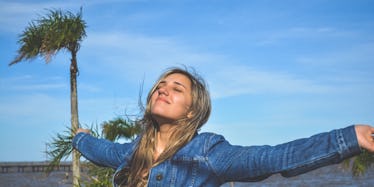 11 Fulfilling Things To Do By Yourself When Your Friends Are In Relationships
There's no doubt embracing your singleness is nothing short of amazing.
But, do you know what's not-so-spectacular? Being single while all of your friends are in a relationship.
It's a lot like being engrossed in a really juicy book on the beach, then looking up and realizing literally everyone has left... and you're chilling by yourself.
I found myself in a similar situation not too long ago, and was left thinking, "WTF am I supposed to do now?!"
All of my friends were either in a relationship, or beginning to see someone exclusively, and I was too focused on school to have time for dating or a new relationship.
Anyone who's been in this place knows many people in relationships are notoriously bad at making time for anyone other than their SO.
If you find yourself in the same boat as I was, here are 11 fulfilling things to do by yourself while your all of your friends are busy being in relationships.
1. Try Something New And Fun
Get your zen on by signing up for a hot yoga class, get crafting with watercolor paints, or channel your love for nature with a rejuvenating hike.
Do something that truly makes you feel good and feeds your soul.
2. Read A Book You Won't Be Able To Put Down
Hit the books... but in a good way. Go to your local bookstore and pick up the first few books that pique your interest.
Bring your new books home, and curl up in one of your favorite spots. Or, grab a cup of coffee at the bookstore and get reading.
3. Explore The Hidden Gems In Your City Or Town
It's time to break out a map, and choose an area in your city you haven't spent much time in. Get to know it like the back of your hand.
4. Have A Home Spa Day
Ditch the expensive salon, and spend a day pampering yourself with facial masks, a hot bath, and a manicure customized exclusively for you.
5. Plan A Weekend Trip
Keep an eye out for cheap flights to new cities, and spend the weekend eating new cuisine, visiting museums, and enjoying what the world has to offer.
6. Become A Master Chef
... Or at least learn how to make more than ramen noodles.
Pick out your favorite dish, and put your apron on for a day showing off your skills in the kitchen.
7. Throw A Dance Party For One
Blast some music, channel your inner Meredith Grey, and dance your booty off with a glass of wine.
8. Re-Watch Your Favorite Show
Nothing beats re-watching Parks and Recreation, am I right?
9. Freelance Your Talents
Put your skills to good use, and freelance your abilities to companies who need your skills.
Something to focus my time on, while making some extra cash in the process? Sign me up.
10. Try Dog Walking
If you don't have a doggie of your own to keep you company, dog walking is a great way to explore the outdoors and spend some time with adorable dogs.
11. Sign Up For A New Fitness Class
A new workout routine is distracting and empowering all in one. Sign up for a new class you've never tried before, and give it your all.