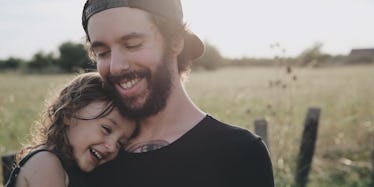 6 Sweet Things You Can Do For Your Dad That Don't Cost Anything
Caroline Hernandez/Unsplash
With Father's Day just around the corner, you might be going crazy trying to figure what exactly to get Dad.
Our dads hardly ask for much, and even if you tried, no gift could ever fully embody the love and respect you have for him. But like most problems, there's always a solution.
Without checking your bank account every other transaction this year, try something that doesn't require a penny.
There are plenty of ways to make rich memories this Father's Day, without ever having to open your wallet.
Here are six sweet things you can do for Dad this weekend.
1. Have A Dad Date All Day Long
You'd be amazed at how much your dad just wants to hear from you.
With adulting and those other summoning forces in your life, you don't always get to catch up with him as much as you want to. Phone calls are great, but some one-on-one father, daughter time is priceless.
Plan a sweet dad date. Even if you decide to chill at home, play some games, and crack open a few beers, he'll really appreciate it.
2. Help Him With A Project He's Working On
Maybe wood shop was never your thing, but imagine if you had your dad in class. Not so bad, right?
So, whatever side project your dad is working on, it couldn't hurt to help him out. Then, whenever he sees it around or uses it, he'll remember you did it together.
3. Get Crafting And Make A Collage
Time escapes us all, and you probably hear your dad refer to you as his "little girl who grew up so fast."
Putting together some pictures of you two together from childhood to now would be adorable. It will show him that maybe the time has passed, but the love is still there, always and forever.
4. Put Your Chef Hat On And Make Him His Favorite Food
This doesn't have to cost anything. Chances are, if it's his favorite food, he probably has the ingredients (or something like it) lying around somewhere.
Yeah, you could always go to a restaurant, but where's the fun in that? It's an extra special meal if it's being cooked by you.
So, get your "I Love Dad" apron ready.
5. Listen To His Childhood Stories
Believe or not, your dad was once a kid just like you. Talk to him about it.
It's a weird concept that your dad was a totally different person before you, but he probably has epic stories to share.
You may even discover you two are a lot alike. Lending an ear can go a long way, and doesn't cost anything except your undivided attention.
6. Tell Him How Much You Love And Appreciate Him
This sounds so simple, but even this small gesture escapes us on a daily basis.
Telling your dad how much you appreciate him will make him feel accomplished as a father. It's not easy raising kids, and this gratitude will show you understand and appreciate he joined the parenthood train, just for you.
Practice some financial restraint this Father's Day, and cater to the only thing that truly matters: your relationship.
You can never put a price tag on that, and Dad definitely wouldn't want you to.