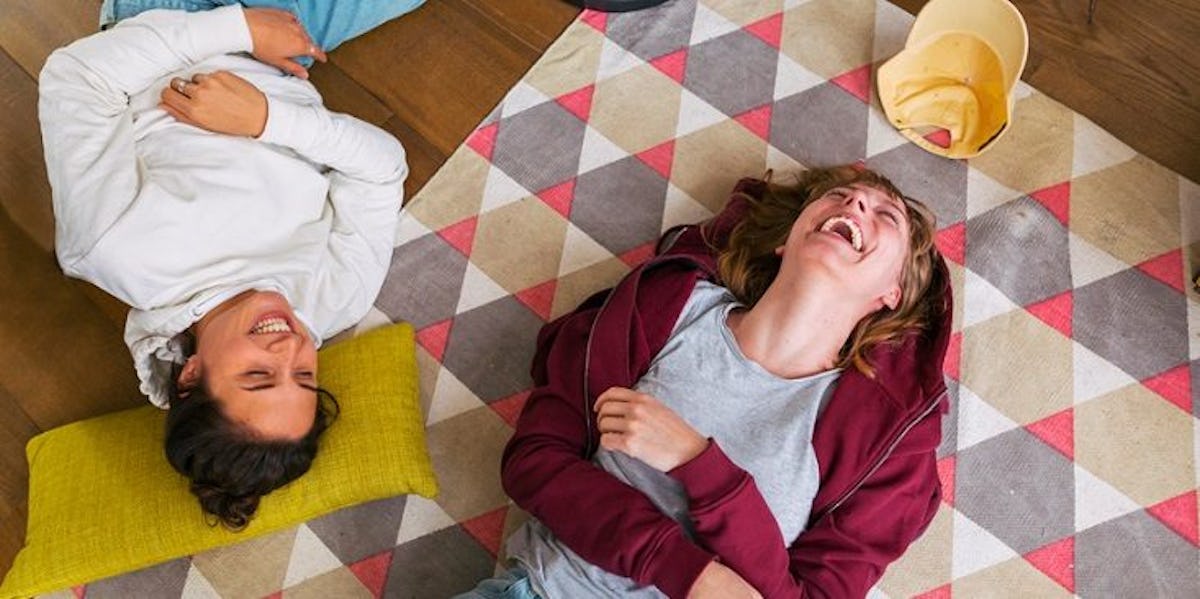 11 Things To Do With Your Best Friend To Take Her Mind Off Of A Breakup
Ivo de Bruijn/Stocksy
You feel a little helpless when your friend is going through a bad breakup. You're not sure of the right words to say. You want to cheer her up so she's back to being her happy self again, but just like anything, you know it takes time. Although you can't fix all of her problems right away, there are some things you can do to take your BFF's mind off of a breakup.
When your BFF is going through a tough time and you know words won't truly do any good, don't fret. Here are 11 things to add to both of your bucket lists STAT to help her heal. Being there for her as her supportive best friend is crucial to the overall recovery process.
1. Cruise Around And Listen To Your Favorite Songs
Nothing makes me feel better than just driving around with the windows down, scream-singing my favorite songs. You can make your friend a mixtape or Spotify playlist of all of her favorite beats. Make sure to throw in a lot of inspirational classics by Beyoncé, Kelly Clarkson, and Taylor Swift, but also some jams from the heartthrobs like *NSYNC, Backstreet Boys, and One Direction.
2. Throw A Spontaneous Dance Party
Allow your friend to let it all out on the dance floor. Turn up the music, and dance like no one is watching. This is a judgment-free zone just to have fun and do your thing.
3. Escape Town For A Long Weekend Trip
Plan a weekend trip to a new destination. Get your friend out of town and exploring a new place. Maybe it's heading to a breathtaking, scenic cabin on a lake, or just to a local town that has a cute strip of stores you can shop at. As long as it's a getaway where nothing can possibly remind her of her ex, she'll most likely have a great time.
4. Plan A Bakeoff Party
Have a baking party with your friend where you can make and eat everything that's sweet. You can even make it fun by buying brownie mix and throwing whatever you want into the mix. Add things like Reese's Peanut Butter Cups or marshmallows. Make it a competition of who can make the best box brownies.
5. Have A Cozy Movie Night In
Gather all of your friends' favorite movies and have a cozy movie night in. Make sure they're light-hearted escape films, like comedies or action-adventures. Gather all of the blankets you can find, make the comfiest fort to sit in, and enjoy all of the necessary movie snacks.
6. Enjoy Some Retail Therapy
Just like Cher in Clueless, when you're feeling down in the dumps, you need "to find sanctuary in a place where you can gather your thoughts and regain your strength," and that may very well be the mall. You can take your friend shopping at some of her favorite boutiques. I highly recommend stopping at Sephora for a free makeover.
7. Have Lunch At A Cat Café
When you're upset, snuggling with a cat or dog will instantly take your mind off of everything bad. Take your BFF to a cat café where she can drink coffee while petting fluffy kittens. She'll completely forget all of her worries.
8. Have A Game Night
Invite a few people over for a game night. You can play charades, Monopoly, and Bingo. Your friend will be so wrapped up in trying to win, she'll totally forget her ex... even if just for a little bit.
9. Play Touch Football In The Park
Elle Woods was right in Legally Blonde when she said, "Exercise gives you endorphins. Endorphins make you happy." Help your friend feel happy again by heading to a beautiful local park. Go for a jog, or invite a few friends to play touch football or freeze tag.
10. Have A Pampering Spa Day
Your friend deserves to treat herself, so plan a spa day for the both of you. Don't worry if you're both broke AF, you can make your own DIY spa at home. Give each other manicures and drink mimosas.
11. Old School Sleepover
Go back to being kids by having an old school sleepover. It combines a lot of these activities, but with one goal in mind: To act like you're kids again. Watch nostalgic movies like The Parent Trap or Spice World, eat Gushers and pizza, and play games like Mall Madness. Anything from the 90s is allowed to attend this girls' night.