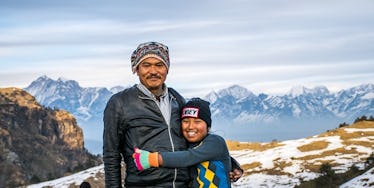 5 Things You Grew Up Hearing Dad Say That Didn't Make Sense Until Your 20s
Between his hilarious dad jokes and loving demeanor, Dad tends to give us a lot of advice throughout a lifetime.
Some of it hits so close to home, while other advice makes us instantly want to roll our eyes.
As we get older, life gets more complicated. Between paying rent, working long hours, and having a social life, balancing it all can become overwhelming.
When we're in our 20s, we wish someone with a *been there, done that* mentality would look us in the eyes and give us the exact advice we need.
Well, you may not remember, but Dad has actually already given us some of the advice we're longingly seeking. It didn't make sense then, but now it's pure gold.
Here are the things your dad says to you that don't make sense until your 20s.
1. "You Shouldn't Have To Change To Make Someone Like You"
Dad has probably said time and time again you should never change yourself to make another person happy.
When you were younger, you brushed this aside. Middle school and high school felt like forever, and not changing yourself to conform to the current trends and what your friends deemed "cool" didn't seem like the way to go.
By now, you should know you're pretty awesome and have so much to offer the world. Become the person you want to be, and don't ever change yourself to make another person like you more.
2. "Confidence Is Key"
In so many words, Dad probably told you confidence is key... and he's right.
Confidence is the number one trait you need to unlock doors in so many areas of your life, from friendships and dating, to your career.
It takes someone in their 20s who's #adulting to realize dad was onto something important. Your skills will get you far, but confidence in yourself gets you even further.
3. "Take Your Life One Day At A Time"
Everything you want to see yourself accomplish and achieve isn't going to happen all at once.
Time is a funny thing; it seems like it's dragging, but when you look back, your life should seriously get a speeding ticket.
Dad's always telling you to enjoy the present. You'll get to where you need to be, when you need to be there. For now, soak up all today has to offer.
4. "Figure Out What's Most Important To You"
In so many words, Dad has told you life should be about the things and people you love.
You don't want to end up with more regrets than incredible memories. Spend your life the right way by pursuing your dreams, keeping in mind your values, and pouring out love to the people who matter most to you.
You'll look back on these years feeling lucky you embraced life on your own terms, no matter what hardships you faced.
5. "Work Hard"
The goals you want to achieve, and places you want to explore, aren't going to casually fall into your lap.
If that new promotion were super easy to attain, literally anyone could do it. Dad taught you all of your hard work is what makes everything worth it.