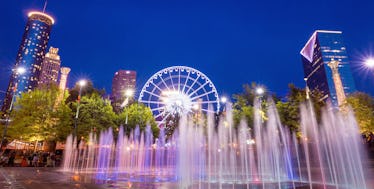 Peace Up, A-Town: 5 Things You'll Miss If You Move Away From Atlanta
Shutterstock
Are you thinking of abandoning Atlanta? Moving away from The A?
Maybe you've reached the end of the BeltLine. Maybe you've swiped left for every casanova from Cascade to Cobb County. Maybe you're still sour that The Braves are moving to Cobb County. Or, maybe, you can't wait another three years for a studio apartment (slash broom closet) at Ponce City Market.
Whatever the reasons you're thinking of ditching the Dogwood City, be advised, you'll miss it more than you think.
It may be hard to envision this now, since you're probably reading this while stuck in traffic on the Grady Curve, avoiding near misses from a grandma who can't see over her dashboard display of stuffed animals.
You're wishing you were literally anywhere else in the world besides maybe Syria or Tuscaloosa, but I guarantee you will pine for the Big Peach.
After seven months of living overseas in Australia, I often ache for The A like Chick-fil-A on Sunday.
Here are five things you don't think you'll miss until they're gone:
1. Strip Clubs
Sometimes after a Braves game, you just want to take your ticket stub to gain free entry and head to The Cheetah to celebrate a Wednesday night almost-win with only one injury to our bullpen.
Or, maybe you're bored on a Tuesday and want to take the stage at Clermont for a good old-fashioned karaoke sing-a-long. With strippers, obviously.
Whatever A-town bar tickles your fancy, you know when and where to go in our Magic City.
Try finding a decent strip club in a foreign city like Melbourne (where brothels are legal) and you might accidentally end up having Naughty Times getting the Hot Gossip at Pleasure Planet.
Even if you do manage to find a classic topless shop, a lot of countries (like Australia) have coins for their $1 and $2 denominations, so heed caution when making it rain.
2. Concerts
From Foxes and Goat Farms to Drunken Unicorns, Atlanta is a variety playhouse of venues in order to see your favorite artists or up-and-coming acts take Center Stage.
For reasonable prices, you can catch shows any night of the week in any area in Atlanta, from Eddie's Attic to the Basement and downtown Tabernacle to Terminal West.
Pick a random $10 weekday show and go enjoy it for me next week because in the off chance a known artist is making their way here, it'll be triple the cost and sell out faster than Lilly Pulitzer at Target.
R&B legends Blackstreet came in April and no lie, tickets were $65. Florence and The Machine are here this month if you've got the love and $98. Homies Ja Rule and Ashanti were here too recently for a mesmerizing $63.17 (plus, $9.50 in fees for being bovine enough to attend this sh*t).
It's murdaaaa.
3. Hometown Hookups
Everyone's got them and everyone resorts to them.
I'm talking about the Little Black Book of booty calls. The Slampiece Yellow Pages. The "What r u up to?" Roledex. The DTP Directory. The numbers in your phone you and Siri both know you should delete, but Jack Daniels is a six-time National Debate Tournament winner and convinces you otherwise.
Sometimes, you just got to do who you got to do.
Move overseas, though, and your friends-with-benefits list goes down the drain like morning-after mouthwash.
You've got to start completely fresh to field a team and build up the bench, which can be tough if you're still getting settled in a new city without coworkers to court, mutual friends to hook you up or late-night Fireball shots at Atkins Park on a confidence-boosting ad hoc basis.
4. Driving
I'm 83 percent sure my blood pressure has dropped a few points since leaving Atlanta.
Because, Lord knows, I haven't reduced my alcohol, caffeine or sodium intake (Hi, fish & chips and espresso martinis!), I can only assume it's from eliminating the chronic stress caused by Atlanta traffic.
Like in many other major cities, public transportation in Melbourne is ridiculously efficient (go figure, MARTA), so aside from the sporadic Uber or the occasional morning-after ride home, I rarely see the inside of a car. And I haven't driven since December.
That being said, sometimes you just want to get in the car, blast some Outkast, fly down Freedom Parkway and load up your trunk with a bunch of sh*t you don't need from Target without having to haul cases of wine groceries and a vacuum cleaner on the tram.
Ol' girl Hillary Clinton hasn't driven since 1996, and as a firm believer that the best thinking is done behind the wheel, on the treadmill or on the toilet, I swear she could firm up her stance on the trade deal if she'd just trade her motorcade in for a Caddy, bump some Beyoncé, clear her mind and cruise.
5. Atlanta Hip-Hop
Speaking of Cadillacs, do me a favor and immediately put on Outkast's "Southernplayalisticadillacmuzik." Or YoungBloodZ's "Cadillac Pimpin'." Or Luda's "Southern Hospitality."
Or literally any rap song to ever come out of ATL about Cadillacs, Bankhead, cell therapy or even a ditty about a girl who has a big booty so 2 Chainz can call her out on said big booty.
Put on these odes and enjoy them with the people who know them because once you leave Atlanta, you'll be hard-pressed to find people impressed with your expertise in T.I., mastery of Killer Mike and Ph.D in Kilo Ali.
Atlanta has warped me to be weary of people who can't tell you their favorite Outkast album (Aquemini, duh), or Luda's best track off Back For The First Time, "Phat Rabbit," south side let's ride.
Pick up some fresh footwear at Walter's while you're at it. Because the farther from Atlanta and the closer to Asia, the more frequent the fake FILAS.
Peace up. A-Town down.
Honorable mentions that would be so obviously missed they needed no further explanation: Manuel's Tavern, Sweetwater, the Holy Trinity, Fox Bros BBQ, Underground Atlanta, Fellini's, running in Piedmont Park, people watching in Piedmont Park, blacking out at Park Tavern next to Piedmont Park, ubiquitous Coke (Coca-Cola that is), Pool Hall, Tin Lizzy's flavor-blasted chips, East Atlanta bars, Virginia Highlands bars, Buckhead bars.
Okay, pretty much all the bars except Daiquiri Factory. And Hole In The Wall.
This list could go as long as Peachtree Street, but don't let your FOMO deter you from venturing overseas. Because like Waffle House or Majestic Diner, Atlanta is always open and available to comfort you when you need it.