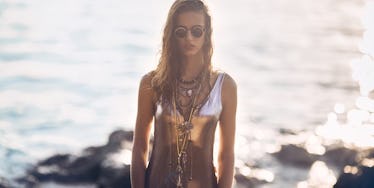 What Swimsuit You Should Buy For Your Next Trip, Based On Your Personality
Lumina
Along with flowers beginning to bud and Starbucks debuting its highly-anticipated spring menu, many of us start developing spring fever.
And who can blame us? We've been passionately dying to break out of these winter blues ever since that first snowfall.
We're SO over combat boots and beanies… and the caramel brulée latte we once looked forward to just seems totally passé now.
We crave sunshine, coconut milk macchiatos, denim shorts and sundresses, dammit!
Most importantly, we want THE BEACH.
If you're like me, you develop the itch to buy an entire new wardrobe of bikinis the very second warm weather hits. But even if the golden gate to spring hasn't exactly opened yet, YO-freaking-LO.
Anyone who knows this chick over here can expect her shopping cart to be filled to the brim with the hottest trends of the season that she just so happened to drop her last paycheck on.
I have a SLIGHT addiction. OOPS.
But with spring break upon us, what better time than now to shop until we drop?
THE BEACH AWAITS.
But before you hit the sales racks of your favorite stores, here's the ultimate swimsuit guide for each personality type:
First off, this chick will most likely be booking her spring break trip or summer vacation someplace lavish and exotic.
She's a jetsetter, and she certainly won't hold back on all the fabulous travel plans she's making this sunny season. This gal is known to save all her energy for only the spectacular occasions that really pique her interest.
Yacht parties and basking by the infinity pool awaits, so she deserves a swimsuit that's fit for such affairs.
Something like this stunning metallic number with embellishments is perfect for the goddess of the sort.
And let's be real here: What's more fun than a bikini with a fun, intricate design like this one?
This gal will certainly be shredding up the waves on her surfboard and going snorkeling in the deep blue sea. She migrates where the fun is, and she lives for her next adventure.
The beach is the place this gal calls home during the summer because it holds so many of the thrill-seeking activities she enjoys most... not to mention the fact that she's always down for a cabana party once the sun sets.
A vibrant, beautiful bikini like the above one, or a stunning, marble-patterned bikini would fit her personality perfectly. It will ALSO work well for all the jet-skiing this chick is going to do this summer.
This chick places so much value in her hopes and dreams, but she's also a complete social butterfly.
She may even take that leap and book the trip of her dreams with her friends that she's been saving up for.
She's totally ready to relax, explore and immerse herself in another beautiful culture, all while spending quality time with her main gal pals. What's better than a rejuvenating getaway?
You can find this beach babe catching rays in a whimsical suit like the above crochet bikini, or a patterned one piece. They're both colorful, unique and oh-so dreamy.
You can always count on this gal to set the hottest trends of the season. You can also count on everyone in her girl squad to follow her lead.
This chick is never afraid to dare to be different and make out-of-the-box fashion statements; that's just how she likes to roll. Setting the trends excites her, and she rocks every new look with the complete and utter confidence of a #GirlBoss.
The prime swimsuit for this gal would definitely be a striking lace monokini like the lace one above, or the sexy number Hunter McGrady is rocking.
A monokini can be worn to the beach, but it can even double as a top by looking oh-so chic when worked with a maxi skirt, sun hat and lots of jewels.
No matter what personality type you identify with, this sunny season will surely be a spectacular one, thanks to your new bombshell swimsuit.