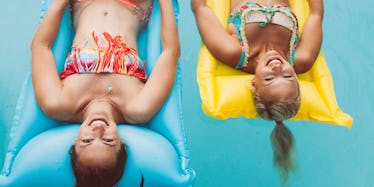 This Spring Break Playlist Will Make You Want To Hit The Road ASAP
Bipolar weather got you down? Failed all your new year's resolutions? Hate everyone at work?
It's time for a break – a spring break.
Not even three full months into 2017, and the year is already shaping up to one for the books. Is it a good book? Probably not.
So whether it's for dancing on the beach, or blocking out your boss, we've curated the ultimate spring break playlist to fill the silence of every vacation moment.
1. "That's What I Like" by Bruno Mars
For that 9 am mimosa:
2. "Chained To The Rhythm" by Katy Perry
For drinking after you accidentally watched the news:
3. "Green Light" by Lorde
For dancing around and cooking breakfast:
4. "Left Hand Free" by Alt J
For the first time you see your destination:
5. "Shape of You" by Ed Sheeran
For the moment you make eye contact with someone hot:
6. "Señorita" by Justin Timberlake
For the dayger (day + rager) you throw:
7. "Die Young" by Sylvan Esso
For waking your friends up the right way:
8. "Bone + Tissue" by Gallant
For singing as loudly as physically possible:
9. "Slide" by Calvin Harris (feat. Migos and Frank Ocean)
For the night of the best day ever:
10. "Jumpin', Jumpin'" by Destiny's Child
For dancing with someone other than your significant other:
11. "Me & U" by Cassie
For letting your freak flag fly:
12. "All We Got" by Chance the Rapper (feat. Kanye West & Chicago Children's Choir)
For the Saturday afternoon alcohol run:
13. "THat Part" by Schoolboy Q (feat. Kanye West)
For marking your territory on the beach:
14. "Famous" by Kanye West
For meeting your Kanye West quota:
15. "Alright" by Kendrick Lamar
For the one night you stay in:
16. "My PYT" by Wale
For your house party:
17. "Work Out" by J. Cole
For dancing and getting ready:
18. "One Dance" by Drake
For pretending you're from the Caribbean:
19. "Needed Me" by Rihanna
For any time at all, this song is always relevant:
20. "Superlove" by Tinashe
For scoping out people on the beach:
21. "My Boo" by Flume (feat. Kučka, Vince Staples, Ngaiire & Vera Blue)
For dancing like an idiot:
22. "Lord Pretty Flacko Jodye 2" by A$AP Rocky
For getting home at 4 am:
23. "Finesse" by Bruno Mars
For wearing chokers and plaid:
24. "Anaconda" by Nicki Minaj
For revealing your speedo/thong bikini:
25. "Sorry" by Beyoncé
For being unapologetically you:
Happy listening! Check out the entire playlist on Spotify: