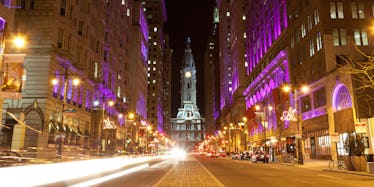 6 Signs You're That Suburban Girl From 'Right Outside Of Philly'
Shutterstock
When you meet people from Pennsylvania, chances are, they will probably describe their hometown as being "right outside of Philadelphia." Hearing this, you may picture the same streets that brought us Will Smith (you know, "west Philadelphia born and raised") or Queen Nicki's Meek Mill.
But whether "right outside" really means 15 or 40 minutes, life in the suburbs of Philadelphia has its own meaning (especially for us suburban girls). Considering it is pretty much in our backyard, we experience Philadelphia in a different way than native city people.
Here are six surefire signs you grew up with Philadelphia right at your fingertips:
1. Boathouse Row was your welcome wagon.
As a child, your parents probably drove you into the city and immediately pointed out Boathouse Row on your left as the city towered in front of you. The boathouses are outlined with lights, and at night, they reflect a picture-perfect image on the Schuylkill River.
This would probably be on the drive before you reached the Please Touch Museum or The Franklin Institute. (Cue the flashbacks to having panic attacks inside an artery at The Giant Heart Exhibit.)
2. Historical sites were a dime a dozen.
While your childhood in the City of Brotherly Love progressed, your parents felt the need to teach you the historical background of your city. "An educational trip" was a frequent statement in your house, as were the following eye rolls between you and your siblings.
Your mom would drag you and your siblings around the city to see historical landmarks like The Liberty Bell, Betsy Ross' house, Independence Hall where the Declaration of Independence was signed, the National Constitution Center and everywhere else in between.
And if you didn't take a family educational visit into the city, you most definitely had at least three class field trips to see these sites. Speaking of history, on that same drive into the city, your mom would turn the radio off and shout, "Put your phones down! Look, those are the steps to the art museum!" (Cue the "Rocky" theme song.)
Then, you and your siblings would collectively moan, "Mom, we know."
3. Reading Terminal Market: Did someone say cheesesteak?
As you grew older, you began to explore the city on your own time. This normally meant taking the train with friends on the weekends or half days into the city.
Hours upon hours would be spent devouring all sorts of food in the Reading Terminal Market. Gino's steak sandwiches, popular cheesesteaks and even the perfect cannoli could be found in the famous market where many people do their daily food shopping.
4. Spruce Street Harbor Park had you feeling artsy.
In the summertime, city adventures consisted of other activities besides the excessive intake of calories (well, maybe). Masses of tan legs, high-waisted shorts and crop top-clad groups of teens took over Spruce Street Harbor Park just to scout all the #artsy things to post to their Instagram accounts.
For starters, Spruce Street Harbor Park has over 50 colorful hammocks linked between the park's trees from which city-bound friends or lovers commonly post Snapchat stories. A classic Philly summertime day trip also included roller skating at the Blue Cross RiverRink, and eventually stopping for an ice cream break once your ankles were too sore to continue.
5. Strolling down South Street had you feeling trendy.
Eventually when fall rolled around, suburban girls hit the train tracks in their flannels and pumpkin spice everything. You and your gal pals headed down South Street for a more a magical afternoon at Philadelphia's Magic Gardens, snapping candid photos of each other in front of the mosaic masterpieces. Before catching the train back into your suburb hometown, you made a pit stop at Hai Street Kitchen & Co for a burrito.
They weren't like Chipotle burritos with extra guac (and E. coli?), but sushi burritos. At Hai Street, you roll your own sushi burrito filled with your favorite fish, rice, wasabi guacamole and more. After stuffing your face, you and your friends swiftly raced back to the station to catch the train home (aka to finally sit, digest and edit your pictures for the 'Gram).
6. Jingle bells filled the air with Christmas Village festivities.
To get into the holiday spirit, you ventured into Christmas Village and shopped around the vendors filled with little trinkets and ornaments. The enormous Christmas tree is admired and adored as it is year after year, and you watched as groups of families lined up in front of the LOVE statue, getting ready for their traditional Philadelphia holiday card.
Similar to the ultimate summertime favorite, ice skating at the Blue Cross RiverRink is another winter activity must-do. It's here that Penn's landing is turned into a Winter Fest, complete with cozy huts with fire pits and a lodge for snacking.
The next time you hear someone say he or she is from "right outside of Philadelphia," have a few of these ideas in mind. Normally, the "right outside" part consists of a 20-minute train ride or a short car ride and day trip adventures packed with these special places.
"Right outside of Philly" people can agree that these common experiences fill them with grins and warm memories. How lucky are we to have such an incredible city to call our home?